Digital Ugerevy: Uge 11, 2019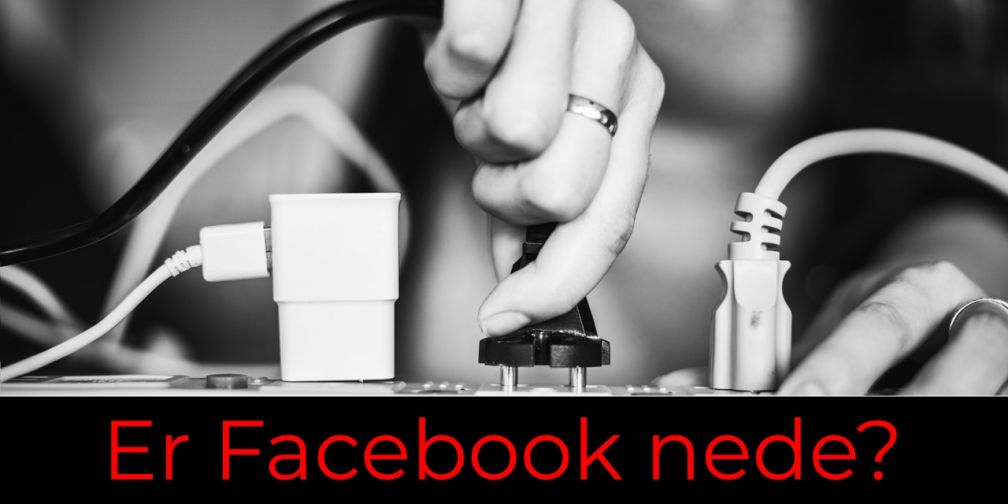 Facebook blev ramt af et stort nedbrud, der også påvirkede Instagram og WhatsApp. En rapport for fagenes fremtid blev præsenteret – og en anden rapport kigger på robotjournalistik. Det og meget mere i denne uges opsamling.

Digital Ugerevy er en opsamling indenfor tendenser, digital udvikling og forretning i og omkring mediebranchen i ugens løb.
Det betyder, at du sparer tid: Du behøver ikke læse en masse artikler og nyhedsbreve for at holde dig opdateret. Du skal bare følge med her 🙂
Tak fordi, du læser med
Lars K Jensen
? Bevar overblikket
Få det ugentlige overblik
Én mail. De vigtigste historier. Overskueligt.
…og så er det gratis 🙂
Skal vi lave noget sammen?
Har du brug for at sparre med en, der har arbejdet med digital udvikling i mediebranchen i mere end 10 år? Eller har I brug for en digital udviklingspartner til et projekt eller omstilling?
? SOCIALE MEDIER

Her finder du historier om eller fra de store sociale platforme, der har en enorm rolle at spille i kontakten mellem udgiver/afsender og modtager.
Sådan lykkes BBC på sociale medier
Speaking at Newsrewired (6 March), Jonathan Paterson, editor, digital video, BBC News said that solutions journalism can hold the key to engaging young, social media-savvy audiences with strong visual content
Facebook, Facebook, Facebook
Facebook ramt af stort nedbrud
Facebook and Instagram appear to be partially down for some users around the world today. While you can open both platforms and some services appear to have been restored, users are reporting issues with sending messages on Messenger, posting to the feed on all Facebook products, and accessing other features on Facebook.com, Instagram, and WhatsApp.
↓
Facebook og to Facebook-ejede platforme har alle være ude for ustabilitet og afbrudt service onsdag aften og natten til torsdag. Det er en af de længste serviceafbrydelser i Facebooks historie
↓
When Facebook Goes Down, Don't Blame Hackers
Wired
↓
Det var dårligt nyt for Facebook, men godt nyt for den privacy-fokuserede messaging-service Telegram:
Three million new users have signed up to Telegram over the past 24 hours, during a period in which Facebook (and Facebook Messenger), Instagram, and WhatsApp were all experiencing significant outages worldwide.
Facebooks dataaftaler bliver efterforsket
Federal prosecutors are conducting a criminal investigation into data deals Facebook struck with some of the world's largest technology companies, intensifying scrutiny of the social media giant's business practices as it seeks to rebound from a year of scandal and setbacks.
Kendisjournalistik hårdest ramt af Facebooks algoritme
Articles about Arts & Entertainment, and Music in particular saw the biggest drop by percentage, 71% and 65% respectively.
Facebook tester nye Stories-funktioner til sider
Facebook is testing new ways for Pages to archive and share Stories. Marketing Land first became aware of the new features after social media consultant Matt Navarra Tweeted an imageof them on Tuesday.
Facebook fjerner Facebook-kritiske annoncer
Facebook's ad team shoots itself in the foot by pulling Elizabeth Warren campaign ads
Facebook udfaser relevans-score for annoncer
Facebook has announcedthat it will remove its Ad Relevance Score as part of a broader switch to more granular, relevant ad metrics to help improve performance.
Facebooks musikrettigheder dækker nu 40 lande
The social giant has signed new licensing deals with major labels in the Asian countries, as it expands its music products globally at a rapid pace.
Facebooks produktchef har sagt op
It seemed, for years, that [Chris] Cox and [Mark] Zuckerberg saw eye to eye on nearly everything. But there is a suggestion in Cox's statement that, perhaps, a major recent decision drove them apart, and an employee at the company in a position to know confirmed, in a conversation with WIRED, that that is indeed a major reason why Cox is leaving.
↓
Big changes at Facebook: Chief product officer Chris Cox, WhatsApp VP Chris Daniels leave company
Marketing Land
Twitter
Twitter redesigner kameraet
Twitter today introduced a revamped version of its camera that's designed to promote more sharing of photos and videos on the text-centric network. Swipe left on the timeline in the updated app to see the camera, which allows you to snap a photo or take a looping video of up to two minutes by tapping or holding a circular capture button.
…og overvejer at gemme tal bag et tryk
The prototype also moves the engagement counts for replies behind a tap. This change is designed to make Twitter a little friendlier.
Ændringerne er en del af Twitters længe ventede test-app. Læs mere hos TechCrunch.
Twitters projekt om at måle samtalers "helbred" står stille
Lawyers for Twitter and Leiden haven't been able to solidify the data-sharing and privacy details for the partnership, which means the researchers are simply waiting, according to interviews with Twitter and the company's partners. The other group at Oxford ran into similar legal obstacles; it abandoned the project altogether.
De andre
Instagram lader sig sætte notifikationer på pause
Now you have an option to help control your notifications – the Facebook-owned app is rolling out a 'Pause all' optionwhich will enable users to stop any and all notifications from the app for a chosen period of time.
Snapchat møder Game of Thrones
De opridelige QR-koder blev aldrig nogen succes, men måske det kan lykkes for den nye smarte Augmented Reality-udgave…
Snapchat is deploying what it calls "marker" technology, which is a next-generation QR code that brands put on their packaging and outdoor ads so people can bring them to life in the app. Amazon, HBO and Warner Bros. have incorporated Snapchat markers into their installations at SXSW, which began on Friday.
Sådan forandrer Tik Tok verden
TikTok will change the way your social media works — even if you're avoiding it.
↓
5 reasons why TikTok could be the next big thing for brands
Noteworthy
Chrome-udvidelser filtrerer de kommentarer, du ser
By installing a new Chrome extension called Tune, which requires you to sign into your Google Account through the browser, you're invited to control the level of toxicity that you're willing to see on five social platforms: YouTube, Twitter, Facebook, Reddit, and Disqus. You can select as many of these as you like.
Tips til din digitale markedsføring
6 Facebook Messenger Tools to Help Scale Your Growth
Social Media Today
10 Ways to Fight the Decline in Organic Reach on Social Media
Social Media Today
Instagram's Working on a New Way for Brands to Expand Influencer Campaigns
Social Media Today
Social Media Calls to Action: 19 Words & Phrases to Generate More Engagement [Infographic]
Social Media Today
? TENDENSER

Her kan du læse nogle af ugens tendenser indenfor medier. Det kan være en ny metode eller tilgang, branchen forsøger at tage til sig.
Lyd
Zetland eksperimenterer med Google Home
Det her skal nok blive spændende at følge. (Tav Klitgaard er digital chef hos Zetland.)
Google vil vise lyd i søgeresultaterne
Despite plenty of competitive listening apps, Google hopes to grab its share of podcast listeners by including audio in web search results. If a person searches for "Radio Lab" on their phone, for example, one result will link out to the show on Google's podcast app.
50% af amerikanerne har nu lyttet til podcast
For the first time, more than half (51 percent) of the U.S. population has listened to a podcast, up from 44 percent last year. Put another way, 144 million people, or 20 million more people than just a year ago, have listened to a podcast.

Frequency is on the rise, too.An estimated 90 million, or nearly one-third (32 percent) listen monthly, up from 26 percent.
Hvordan arbejder udgivere med smarte højttalere?
Difficulty to monetise, discover content and issues around privacyare some of the reasons why publishers are reluctant to start producing content for voice-controlled devices, despite their potential to be a new revenue and content stream. At Newsrewired (6 March), a panel of experts discussed how they are tackling these concerns.

↓
Report: 65 million US smart speaker owners, smart displays quickly gaining traction
Marketing Land
Andet
Rapport: Fagenes Fremtid præsenteret
Dansk Journalistforbund nedsatte i 2017 et ekspertudvalg, der skulle kigge på fremtiden for journalistitikken, kommunikationsfaget og de visuelle fag. I ugens løb præsenterede arbejdsgruppen sit arbejde, der har resulteret i fire rapporter.
Anbefalingerne har også fået lidt omtale i branchemedierne:
7 provinsmedier byder på FM4
Til november udløber Radio24syvs sendetilladelse, og licens skal derfor udbydes.
De syv mediehuse er udover Jysk Fynske Medier Herning Folkeblad, Skive Folkeblad, Sjællandske Medier, Lolland-Falsters Folketidende, Flensborg Avis og Radio ABC. Dermed lever sammenslutninger af medierne i høj grad op til de politiske intentioner om at placere radioen udenfor København og tilbyde et indhold, der dækker regionale og lokale interesser.
↓
Sammenslutningen vil også kigge på andre opgaver, skriver MediaWatch:
FM4-tilladelsen er hovedfokus her og nu for ny regional mediekonstellation, men kredsen afviser ikke at gå sammen om flere opgaver. Aarhus, Herning, Odense og Esbjerg nævnes blandt de byer, radioprojektet kan forankres i.
MediaWatch
[Kræver abonnement]
↓
Der er dog også andre, der vil lege med:
Nordic Entertainment Group driver i forvejen kommercielle radiokanaler i Norge og Sverige og erklærer sig interesseret i at drive public service-radioen FM4 i Danmark – også selvom der skulle knytte sig krav til kanalens geografiske placering.
MediaWatch
[Kræver abonnement]
Heartbeats lurer på FM4: "Vi kigger på alle de kanaler, der kommer i udbud nu"
MediaWatch
Rapport: Robotter ser ikke ud til at erstatte journalister
Right now, one of the main goals of automated content is to save journalistic effort, especially on repetitive tasks, while increasing output.

The good news is that so far, news automation has not replaced humans, and looks set to work alongside humans in the newsroom.
Sådan lokker Schibsted unge læsere til
News publishers are scrambling to get younger audiences acquainted with their brands. Nordic publishing giant Schibsted, which pinned its hopes on the development of a new app two years ago, is now finding that it's helping: 60 percent of the app users are under 25, and retention — measured by those using the app for the fifth consecutive week — has grown from 25 percent to 35 percent.
En journalistisk tilgang til misinformation
One-year-old startup NewsGuard is trying to turn the problem of unreliable and fake news into a real business. […]

Steven Brill, co-founder and co-CEO at NewsGuard, says the goal is to get a license fee from technology companies to rate all news websites.
The New York Times beder læserne fortælle om sig selv
A spokesperson said the initiative (and the form) is being run by journalists with the Interactive News team and Reader Center, beyond "The Times is always experimenting with how we engage with our readers."
↓
The pros and cons of getting to know your readers better
Columbia Journalism Review
? BUSINESS

Her kan du læse nogle af ugens historier og tendenser indenfor forretningsudvikling i mediebranchen. Altså det, der handler om at tjene penge.
Sådan får The Guardian podcasts til at løbe rundt
The Guardian is seeing its investment in podcasts pay off, buoyed by a new daily show that it's using to increase ad revenue, but also drive people to its membership program.
Spotify klager over Apple
"In recent years, Apple has introduced rules to the App Store that purposely limit choice and stifle innovation at the expense of the user experience — essentially acting as both a player and referee to deliberately disadvantage other app developers," noted Spotify cofounder and CEO Daniel Ek in a statement. "After trying unsuccessfully to resolve the issues directly with Apple, we're now requesting that the EC take action to ensure fair competition."
↓
Vestager overvejer undersøgelse af Apple efter Spotify-klage
MediaWatch
Agate vil hjælpe medier med mikrobetalinger
Agate allows users to pay publishers small amounts, for example 20p or 30p, per each article they read. However, online spending is capped at the equivalent value of the subscription for the same time period; for example, if a weekly subscription is £1, once the reader spent £1 in the same week, they can access content for free. The objective is to reward readers for engagement with the brand without locking them in to a subscription from the beginning.
Magasiner undrer sig over nulmumsudspil
Regeringen spiller lovforslag om digital nulmoms ud, før en analyse af konkurrenceforholdet mellem dagblade og magasiner er færdig. "Vi undrer vi os over hastværket," siger viceadm. direktør hos Bonnier Publications, der ikke er omfattet af momsfritagelsen.
↓
Minister: Magasinanalyse kan indgå i fremtidig vurdering af digital nulmoms
MediaWatch
Nyt fra annoncemarkederne
Google fjerner 6.000.000 falske annoncer om dagen
I 2018 blev der således lukket 2,3 milliarder annoncer, svarende til seks millioner om dagen, blandt andet fordi Google vurderede, at de var falske.
Amazons annonceforretning vokser hurtigere end Facebook og Google
Amazon's ad business is growing fast—faster than Facebook and Google when they were at comparable sizes, according to third-party data and an analysis of company filings. If this continues, it could fuel criticism from political circles about Amazon's expanding tentacles in different businesses.
Det betyder IPv6 for annoncører
'IPv6' er den næste version af IP (Internet Protocol), der er navngivningen af alle enheder, der er forbundet til internettet – de bliver tildelt et unikt tal. Der er brug for flere IP-adresser, men overgangen er ikke uden udfordringer:
The transition from IPv4 to IPv6 muddies advertising companies' ability to match devices based on their IP addresses. IPv4 still accounts for a majority of the IP addresses connecting to the internet.
? UDVIKLING

Her får du et kig på nogle af ugens historier indenfor den digitale udvikling og teknologi, der enten direkte eller indirekte kan have betydning for medier/udgivere.
Apple køber AI-startup med nyhedsovervågning
Apple has acquired Laserlike, a startup founded by former Google engineers that made technology for letting users follow news and other topics. The deal is the latest to expand its artificial intelligence efforts.
Ny Android-beta på gaden
Tiende version af styresystemet Android er ude i sin første betaversion: Her er de nye funktioner, som systemsoftwaren vil byde på.
Præsidentkandidat vil bryde tech-giganter op
Techkoncerner som Facebook, Google og Amazon har fået for stor magt i samfund og erhvervsliv og bør reguleres for at genoprette en sund konkurrence, mener den amerikanske senator Elizabeth Warren.
MediaWatch
[Kræver abonnement]
Læs historien hos The Verge
…eller hos Wired
…eller hos TechCrunch
↓
Vestager om tvangsopsplitning af tech-giganterne: "Det er absolut sidste udvej"
Computerworld
…og det vil News Corp også
Googles søgemaskine og annonceforretning bør adskilles for at gøre konkurrencen på annoncemarkedet mere lige, mener mediegiganten News Corp, der har taget sagen op hos den australske konkurrencemyndighed.
MediaWatch
[Kræver abonnement]
Læs historien hos The Verge
…eller hos CNN
Ny Chrome udvider PWA'er til Mac også
Progressive Web Apps (PWA) er et framework, man bruger til at bygge web-apps, der opfører sig om native apps, altså applikationer, der er installeret på en telefon eller computer.
Den seneste version af Chrome udvider understøttelsen af PWA til MacOS, så alle de store platforme nu er understøttet.