Opsamling: Medier og teknologi / Uge 29, 2017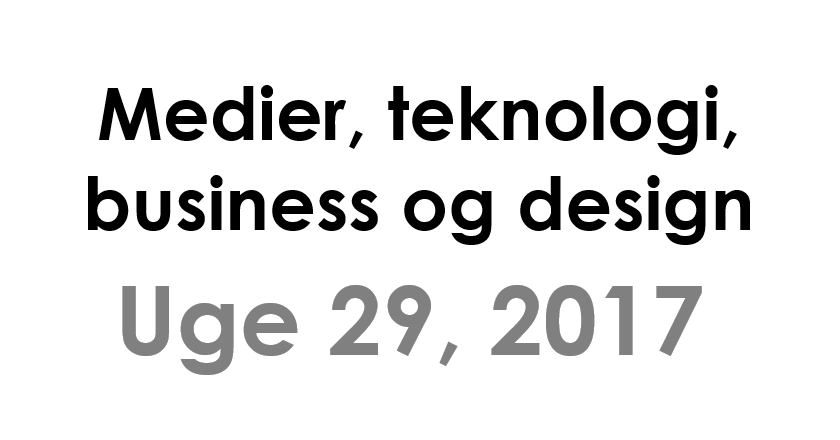 ℹ️ Hvad er det her?
Hver uge udgiver jeg en opsamling med noget af det bedste indhold, jeg er faldet over i ugens løb indenfor medier, teknologi og det, der ligner.
? Følg med på mail:

Tilmeld dig
nyhedsbrevet
, så sender jeg dig en fin mail, håndskrevet til lejligheden, når der er nyt at læse her på siden:

Bemærk: Du får ikke en mail, så snart, jeg har udgivet nyt – i stedet samler jeg op og sender hyppigst en gang om ugen. Hvis du vil følge med og vide det, så snart, der er nyt skal du følge med via RSS-feed'et.
? Generelt / tendenser
✔️ Status på faktatjek verden rundt
About 190 fact-checkers from 54 countries attended the fourth annual Global Fact-Checking Summit, July 5-7, 2017. The International Fact-Checking Network at Poynter Institute hosted the summit. The first meeting of fact-checkers from around the world took place in 2014, with 50 fact-checkers. Now the community has grown so much that we needed a "speed meeting" session for introductions.
→ Læs mere hos The Washington Post
Nu vi er ved faktatjek:
Germany's anti-fake news lab yields mixed results
Eager to show it is tackling the problem, Facebook rolled out a tool in Germany to let journalists spot false news when it is flagged by Facebook users. Since April, Facebook has partnered with investigative journalists to fact-check material shared on the social network.
↓
? Augmented Reality er ikke klar endnu
Hvornår bliver AR seriøst og andet end bare sjov og spas? Denne The Information-artikel har et bud på svaret:
The answer is, not for a few years. While various tech companies like Facebook and Apple have unveiled sophisticated plans for AR in the past 12 months, the hardware in smartphones—the primary device for using AR—isn't likely to be advanced enough for those plans for a long while. Instead, AR will continue to be limited to the indoors and to features like face filters found on Snapchat or 3D animations.
↓
? Google Glass er tilbage – i en enterprise-udgave
To steder, du kan besøge for at blive klogere
↓
? Hvordan var det, da Steve Jobs besøgte Xerox PARC?
Et afgørende tidspunkt i Steve Jobs' karriere og liv var, da han besøgte Xerox' PARC (Palo Alto Research Centre) og så en af de første grafiske brugergrænseflader til en computer. Da Jobs senere beskyldte Bill Gates og Microsoft for at stjæle Apples grafisk brugergrænseflade, svarede Gates, at det vist mere svarede til, at de forsøgte at tage PARCs brugergrænseflade, men at Apple allerede havde taget den.
Anyways, på Quora har (jeg tør godt skrive "den legendariske") Alan Kay (der har arbejdet både hos PARC og Apple) skrevet et svar på spørgsmålet "What was it like to be at Xerox PARC when Steve Jobs visited?".
Jobs citerede i øvrigt Kay (ifølge Wikiquote et citat fra 1982), da han præsenterede den første iPhone i januar 2007:
People who are really serious about software should make their own hardware.
Fra præsentationen:
↓
? IT-leverandører oversælger kunstig intelligens
Neeej neeej, det gør de da overhovedet ikke…
"AI giver spændende muligheder, men desværre er de fleste it-leverandører kun fokuseret på at fremstille og markedsføre et AI-produkt, i stedet for først at identificere kundernes behov, udnyttelsesmuligheder og forretningsmuligheder," siger han til CIO-magasinet.
Advarslen kommer fra ingen ringere end analysefirmaet Garner, og du kan læse mere hos Computerworld.
↓
? Mobil
✨ Google lancerer 'Feed' – til både iOS og Android
Du åbner Facebook, når du skal se, hvad dine venner laver, og Google håber, at du vil åbne deres app, når du skal se, hvad der er af nyt indenfor emner, du interesserer dig for. Tilsyneladende.
The Verge har en artikel om 'Feed':
Google today is rolling out its take on the news feed, a personalized stream of articles, videos, and other content. The feed will appear in its flagship app for Android and iOS, simply called Google. The feed, which includes items drawn from your search history and topics you choose to follow, is designed to turn Google's app into a destination for browsing as well as search. Google is hoping you'll begin opening its app the way you do Facebook or Twitter, checking it reflexively throughout the day for quick hits of news and information.
Og TechCrunch har også en artikel om den nye feature:
More than four years after the launch of Google Now, the company has fully dissolved its AI assistant into the DNA of many of its core product offerings. Nowhere is this impact more evident than in search, where Google has significantly shaken up its philosophy on what a term like "search" even means when you know so much about users and their interests.

Today, Google is delivering an update to the feed it introduced to its Google app last year, bringing more attention to showcasing the information its knowledge graph has built on users while allowing them to "follow" certain topics and people to shape what they're seeing in the feed, as well.
↓
? Forretning
? Facebook bekræfter abonnementsløsning til medier
Om det er den ringe succes med Instant Articles eller mediernes modvilje mod at lade andre (bl.a. Apple) håndtere kunderelationerne og -dataene, der får Facebook til at gøre dette, ved jeg ikke, men spændende er det da:
Efter længere tids spekulation bekræfter Facebook nu, at det sociale medie i efteråret vil teste en ny abonnementsfunktion, som skal understøtte medievirksomheders muligheder for at drive abonnementsforretning via Facebook. Det annoncerede Campell Brown, der er chef for mediepartnerskaber hos Facebook, under den årlige Digital Publishing Innovation Summit i New York tirsdag, skriver Adweek.
The Street har også en artikel om emnet: ↓
Facebook Exec Campbell Brown: We Are Launching a News Subscription Product:
The feature appears to be built on top of Facebook's Instant Articles, which aggregates stories from hundreds of publishers based on a reader's interests and preferences. In addition to steering readers to a publisher's home page to consider taking out a digital subscription, Facebook plans to erect a paywall which would require readers to become subscribers of the platform after they'd accessed 10 articles, Brown said.
↓
? Udgivere eksperimenterer med færre annoncer
Det der "brugeroplevelse", der… Der er noget om snakken:
But some publishers say they're now taking a "less is more" approach when it comes to placing ads across their sites. Stripping out irritating ad formats and limiting the number of ads forced on visitors can actually result in more engaged consumers and ultimately increased ad revenue, they say. […]

The result: There are now fewer ads on each page, and the website generates less revenue from each individual page that users view. But overall ad revenue has increased.
→ Læs mere hos The Wall Street Journal
↓
? 5 brugerbehov ifm. annoncer
t is fair to say that public opinion does not favor most online ads — our research confirms it. In a recent study, we collected open-ended responses to understand what truly makes or breaks an online advertising experience. From the 300 responses we received, comprised mostly of negative comments, combined with our insight from a presentation by Christian Rohrer and John Boyd at Nielsen Norman Group's User Experience Conference in 2004, we were able to distinguish five user requirements for interacting with advertisements.
Det drejer sig om "User control", "Instant gratification", "Placement", "Predictability" og "Relevance" – og du kan få det hele uddybet hos Nielsen Norman Group.
↓
? VG: Digitalt overhaler snart print
De digitale indtægter er i overhalingsbanen hos den norske avis VG, der er mediekoncernen Schibsteds største udgivelse. Det skriver Kampanje i kølvandet på Schibsteds kvartalsregnskab, der netop er offentliggjort.
↓
? Amazon har kig på videoudgivere
YouTube and Facebook get a bulk of the attention from digital publishers looking to build and scale video businesses. Meanwhile, for the past year, Amazon has built a platform that not only offers publishers another place to distribute videos but also the opportunity to make money from day one.
↓
? Bøger
?‍? Menneske, Platform, Flok
I en ny bog præsenteres tre store skift: Fra menneske til til maskine, fra produkter til platforme og fra kerne til flok. Bogen (med titlen 'Machine, Platform, Crowd: Harnessing our Digital Future' af Andrew McAfee og Erik Brynjolfsson) er anmeldt i denne uges udgave af The Economist.
↓
? Derfor skal ledere læse science fiction
Som en, der læser noget science fiction (men slet ikke nok!) kan jeg ikke være mere enig ?
Science fiction can help. Maybe you associate it with spaceships and aliens, but science fiction offers more than escapism. By presenting plausible alternative realities, science fiction stories empower us to confront not just what we think but also how we think and why we think it. They reveal how fragile the status quo is, and how malleable the future can be.
→ Læs mere hos Harvard Business Review
↓
? Organisation / Proces
? Træf gode valg som Product Manager
The decisions PMs make are the ones that unblock their team so they can continue to build. They don't need to make every decision, but they are responsible for ensuring a decision gets made — whether by them, their team, or their stakeholders.
→ Læs mere på Medium [The Black Box of Product Management]
↓
? Sådan arbejder General Electric med rapid prototyping
For these reasons and more, it is generally futile for large companies to ask: "How can we act like a fast, lean, risk-taking startup?" You can't. Which means that it's time for a new approach. Large traditional organizations now struggling to adapt to the fast-paced, risk-filled digital age would do well to consider FirstBuild, an experiment at GE Appliances that is showing real promise.
→ Læs mere hos Harvard Business Review
↓
✏ 

UX / Design / Teknik
? Android-udvikling: Kender du Kotlin?
I ugens løb mødtes jeg med en af mine venner, der talte om programmeringssproget Kotlin [Wikipedia], som Googles Android blandt andet støtter op om. Tilfældigt faldt jeg over Medium-artiklen 'Handsome codes with Kotlin', så hvis du er interesseret i Kotlin, har du noget at starte med der. Ellers er der Kotlins officielle website.
Denne opsamling blev oprindeligt udgivet på ebudvikling.dk