Digital Ugerevy: Uge 44, 2018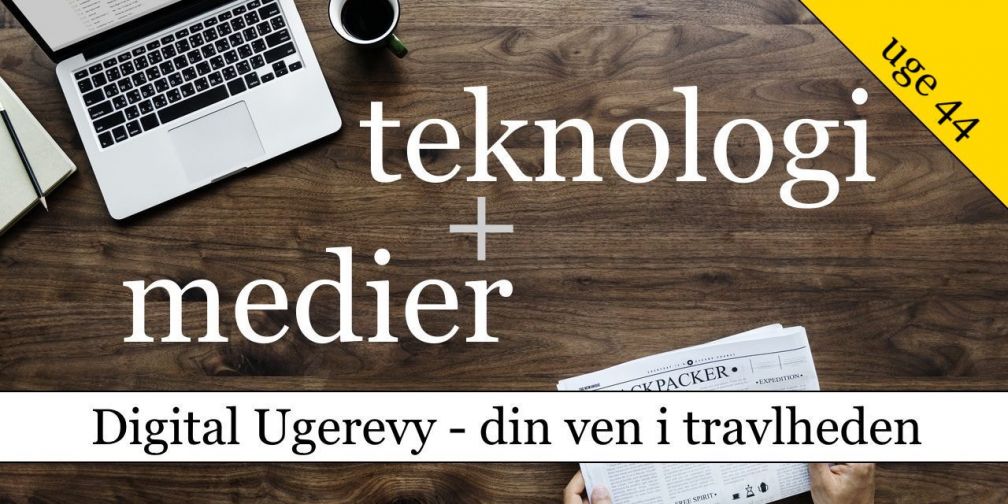 Mit navn er Lars K Jensen, og jeg arbejder som leder af produktudvikling hos Infomedia.
Hver uge deler jeg en opsamling på noget af det mest interessante, jeg er faldet over indenfor digital udvikling og forretning i og omkring mediebranchen.
Det betyder, at du sparer tid: Du behøver ikke læse en masse artikler og nyhedsbreve for at holde dig opdateret.
Tak fordi, du læser med.
? Følg ugerevyen
Det letteste er at følge med på mail. Så får du en mail hver weekend med link til ugens opsamling:

Du får kun én mail om ugen – det lover jeg.
↓ Here we go ↓

? SOCIALE MEDIER
Her finder du historier om eller fra de store sociale platforme, der har en enorm rolle at spille i kontakten mellem udgiver/afsender og modtager.
---
? Influencere, pas på med at købe følgere
Det kan være i strid med markedsføringsloven, hvis bloggere og instagrammere betaler for at få boostet profilen med falske likes og følgere, vurderer to professorer.
↓
---
? Snapchats kerneprodukt er nu Facebooks fremtid
Det handler selvfølgelig om "Stories".
Stories has been a huge hit inside of Facebook's apps, especially Instagram and WhatsApp. Zuckerberg even said that people will share more to Stories than they will to Facebook or Instagram's feeds in the "not-too-distant future," making Stories one of the most dominant ways that people share photos and videos online.
↓
Digiday: Instagram Stories has become a 'box to check' in all Facebook campaigns, buyers say →
---
? Facebook godkendte falske annoncer
A new Facebook tool that shows users who is paying for political ads can be easily manipulated.

Business Insider ran two fake ads listed as "paid for by" the defunct political consultancy Cambridge Analytica, despite the fact Cambridge Analytica is banned from Facebook.
↓
We posed as 100 senators to run ads on Facebook. Facebook approved all of them.
---
? Kritik af Facebooks Ad Manager
"Facebook is an increasingly frustrating experience for ad buyers. The site goes down, auctions are inconsistent and hitting 'publish' can be a crapshoot," said Betsy Hindman, a digital marketer for business-to-business clients. "Surprisingly wonky for such a powerhouse."
Digiday: Ad buyers say Facebook Ads Manager is the most inconsistent of the platforms →
---
? News Feed'et vil fylde mindre for Facebook i fremtiden
He said traffic to new platforms like Stories on both Facebook and Instagram, which Facebook owns, and its messaging platforms WhatsApp and Messenger, is growing so fast that they are diluting News Feed's cultural force and may eventually challenge it as the company's dominant revenue generator. "People feel more comfortable being themselves when their content is seen by smaller groups, and (the posts) don't stick around forever, " Zuckerberg said
---
? Er Facebook holdt op med at vokse?
After months of bad news, Facebook unveiled its second quarter earnings back in July and reported less revenue than Wall Street analysts expected — and more importantly, fewer new users. In fact, Facebook didn't grow at all in its most valuable markets, the U.S., Canada and Europe. It actually shrunk.
---
?️ Europa-Parlamentet vil have fuld undersøgelse af Facebook
The European Parliament  has called for a full audit of Facebook following a string of data breach scandals —  including the Cambridge Analytica affair.
---
? Non-profit-udgivere kan stadig hive trafik ud af Facebook
"Bottom line: The decline in referrals to publishers from Facebook is not universal, and in the face of those declines, other sources of traffic are more important than ever."
---
? Nu  kan du få Snapchat på din computer
Snap Camera can be selected as a camera output in OBS Skype, YouTube, Google Hangouts, Skype, Zoom and more, plus browser-based apps like Facebook Live so you can browse through Snapchat's Lens Explorer to try on AR face filters.
---
? Udgivere forlader Snapchat
Meanwhile, Apple News keeps doing its (sometimes inscrutable) thing.
---
♥️ Twitter overvejer at droppe Like-knappen
Twitter is planning to remove the ability to "like" tweets in a radical move that aims to improve the quality of debate on the social network.

Founder Jack Dorsey last week admitted at a Twitter event that he was not a fan of the heart-shaped button and that it would be getting rid of it "soon".
---
? Højere tegngrænse giver kortere tweets
Twitter's  decision to double its character count from 140 to 280 characters last year hasn't dramatically changed the length of Twitter posts. According to new data released by the company this morning, Twitter is still a place for briefer thoughts, with only 1% of tweets hitting the 280-character limit, and only 12% of tweets longer than 140 characters.

? MEDIER /TENDENSER
Her kan du læse nogle af ugens tendenser indenfor medier. Det kan være en ny metode eller tilgang eller ny teknologi, branchen forsøger at tage til sig.
---
? Unge stoler mindre på nyheder
Unge vesteuropæere mellem 18-29 stoler ikke på, hvad de læser og ser i nyhederne. Men de synes stadig, at medierne er vigtige for samfundet, viser et nyt og stort amerikansk studie. Årsagen skal findes på de sociale medier, siger eksperter.
↓
Nieman Lab: Younger Europeans are tuning out of TV news — but they're into newspaper websites
---
? DR gør klar til stemmestyring og smarte højttalere
"Højtalere med stemmestyring forventer vi kan opnå stor udbredelse i Danmark. De kan bruges til mange forskellige formål, men ikke overraskende er det at høre radio, musik, få de seneste nyheder eller vejrudsigten blandt de ting, som mange starter med at bruge højtalerne til, og derfor er det også vigtigt at sikre, at ikke mindst DR's radiotilbud er let tilgængelige på de nye platforme," siger Tore Hauerbach, der er produkt manager for digital radio hos DR.
---
# Nyt lydprodukt fra Kristeligt Dagblad
Journalist og redaktør Stinne Andreasen er vært på det nye lydformat, som udkommer første gang den 2. november, og programserien er udviklet i samarbejde mellem Christian Ottenheim, der er tidligere chef for P3, Doceye Digital og Morten Thomsen Højgaard, som er Kristeligt Dagblads udviklingschef og programansvarlig.
---
? Lav dit eget personlige nyhedsoverblik med Kinzen
To understand what you are looking for and what you like, users choose from a set of in-app 'channels', whether that is location-based, social or professional needs. Then the app uses a 'feedback loop' which allows users to respond negatively or positively to an article based on your own set outcomes. However, it also analyses behaviour on other social platforms to determine interests.
---
? Nyt projekt vil skabe "trust indicator" for nyheder
"The goal is to make those signals more useful and to help platforms…make better, more informed decisions about ranking and ad purchases — which we hope will help drive both promotion and financial support to quality news and away from disinformation, misinformation, and junk."
---
? Apple News sætter mennesker over maskiner
The New York Times har en længere artikel om Apple News, som de har fået lov at besøge som nogle af de første.
I artiklen kan du læse om udvælgelsen af historier, og du får historien om Apple News. Du kan læse, hvorfor og hvordan Apple har valgt at sætte mennesker over maskiner i udvælgelsen af historier – og nogle af de fordele, den tilgang har haft.
---
? Vil du "binge" The New York Times?
"Binge-watch" and "The New York Times" might not immediately seem to go together. But this week the paper launched the second season of Conception, an animated video series aimed at parents, and binge-watching a few episodes is in fact exactly what the team hopes you'll do.
---
? Publikumsudvikling handler mere om indtjening og mindre om Facebook
Audience development pros have always been crucial to how publishers reach new readers. But increasingly, they're all about the revenue, trying to get people to return to the site in hopes they eventually sign up for a membership, subscribe or buy a ticket to an event.

? MEDIER /BUSINESS
Her kan du læse nogle af ugens historier og tendenser indenfor forretningsudvikling i mediebranchen. Altså det, der handler om at tjene penge.
---
? Danske Medier vil tale falske annoncer med Google
Efter flere tilfælde af falske annoncer, der slipper gennem filtrene til danske nyhedssites, vil Danske Medier tage sikkerheden op med Googles annoncebørs. Hos techkoncernen ser man "alvorligt" på fænomenet.
↓
Falske annoncer sender JP/Politiken i tænkeboks om brug af annoncebørs [MediaWatch]
---
? Derfor sagde JP/Politikens Hus nej til "Spotify for nyheder"
I ugerevyen fra sidste uge kunne du læse et blogindlæg af Mads Kristensen, der dengang var digital direktør i Berlingske Media indtil 2013. Han skrev om arbejdet med at skabe et "dansk Spotify for nyheder", hvor et stort, konkurrerende mediehus trak sig ud af samarbejdet.
Alle har nok gættet, at det var JP/Politikens Hus, og Jan Birkemose fra Medietrends har i et interview med Stig Ørskov (CEO for JP/Politikens Hus) om netop det valg:
"Vi følte ikke, at det var vores opgave at redde andre mediehuse, der var mere optagede af at tale om digital udvikling end at investere i det"
---
? Vil du betale for at slippe for reklamer?
The bet Haile, Chartbeat's founding CEO, is making with Scroll is that he can convince online news readers — both subscribers and non-subscribers — to pay $5 a month for a substantially better, ad-free user experience on the news sites they already frequent. If that pitch works, it could send publishers more money than they could generate from advertising revenue.
↓
---
? The New York Times runder 3.000.000 digitale abonnenter
Not all of the new subscribers signed on for news. The Times reported that, of the 203,000 net increase in digital subscribers, 143,000 signed on for digital news products, with the remainder paying for the company's cooking and crossword features.
---
? The Wall Street Journal bruger produkttest for at få abonnenter
When the team launched with two people in 2015, it was focused purely on improving subscriber conversions at the Journal and the following year at Barron's. By 2017, it had started working on other outcomes like increasing consumption. After the team scored several subscription wins, it started working this year on improving time spent on site, subscriber retention and event attendance. It runs dozens of tests a month on tasks like getting more email newsletter registrations.
---
? The Independent vil kombinere paywall og brand-loyalitet
In this week's podcast Christian Broughton, editor, The Independent, discusses why Independent Minds rewards brand loyalty with exclusive 'treats' — and why he thinks readers will pay for it
↓
Why The Independent chose a membership-style model over paywalls [Journalism.co.uk]
---
? Bog-streaming stiger i popularitet
Streamingtjenester for bøger er de seneste par år piblet frem i markedet, og det afspejler sig i læsernes forbrug. På et år er andelen af brugere på den digitale boghandel Saxo.com, der har et streamingabonnement, steget fra 22 pct. til mere end hver tredje.

? MEDIER /UDVIKLING
Her får du et kig på nogle af ugens historier indenfor den digitale udvikling og teknologi, der enten direkte eller indirekte kan have betydning for medier/udgivere.
---
? Google Pay kommer til Danmark
»Tanken er at tilføre mere værdi end bare betalingen. Står du eksempelvis og skal tage metroen, så er tanken, at du via Google Maps kan få en notifikation i Google Pay om, at metroen er forsinket, og at du i stedet bør tage bussen,« forklarer Florence Diss til Berlingske. Hun er chef for Google Pays partnerskaber i blandt andet Europa.
---
? UK på vej med teknologiskat
Called the "UK Digital Services Tax," Chancellor of the Exchequer Philip Hammond said that this new tax would be "narrowly targeted" to go after the "UK-generated revenues" of these firms. The tax appears to attempt to legally offset efforts by numerous tech and other corporate giants to drastically minimize their tax burden in the United Kingdom and elsewhere.
---
? Hør om grundlæggelsen af Github
In episode 2 of EnterpriseReady, Grant chats with Tom Preston-Werner about how the open source company he co-founded, GitHub, rose up to become an essential coding resource for developers everywhere.