Digital Ugerevy: Uge 8, 2019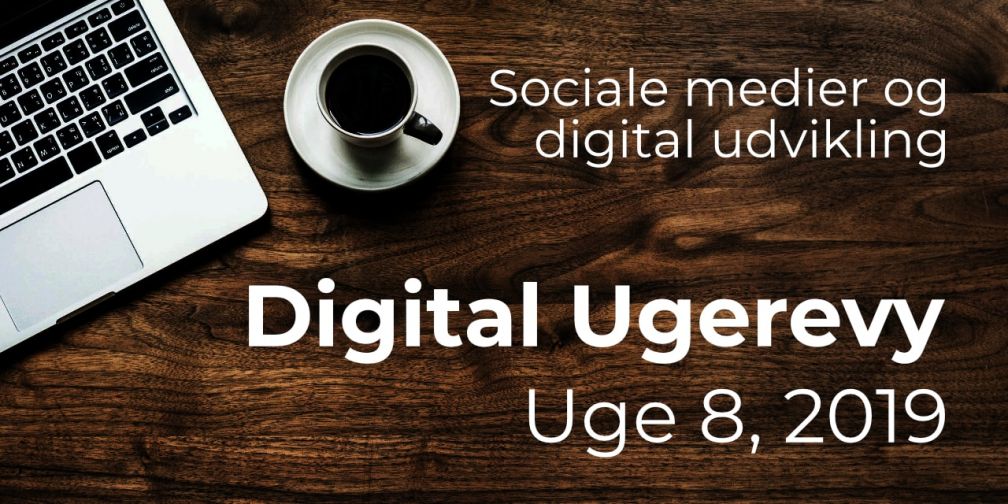 YouTube har fået kritik (og mistet annonce-kroner) efter endnu en krise, og en britisk rapport kalder Facebook en "digital gangster". Flere medier fokuserer på fastholdelse – det bliver dog svært for den danske del af Vice, der lukker. Læs om det og meget mere.

Digital Ugerevy er en opsamling indenfor tendenser, digital udvikling og forretning i og omkring mediebranchen i ugens løb.
Det betyder, at du sparer tid: Du behøver ikke læse en masse artikler og nyhedsbreve for at holde dig opdateret. Du skal bare følge med her 🙂
Tak fordi, du læser med
Lars K Jensen
? Bevar overblikket
Få det ugentlige overblik
Én mail. De vigtigste historier. Overskueligt.
…og så er det gratis 🙂
Vil du have en mere personlig Ugerevy?
Arbejder du med kommunikation, marketing eller journalistik i en virksomhed eller organisation?
Og kunne du tænke dig en mere personlig opdatering på den digitale udvikling og tendenser – eksempelvis ved, at jeg kommer på besøg, så du/I også kan stille spørgsmål?
Kontakt mig, så taler vi om mulighederne.
? SOCIALE MEDIER

Her finder du historier om eller fra de store sociale platforme, der har en enorm rolle at spille i kontakten mellem udgiver/afsender og modtager.
? YouTubes seneste krise
En af de store historier i ugen, der gik, var YouTubes pædofilikrise. Kort fortalt går historien ud på, at en amerikansk YouTube-bruger fandt ud af, at man ved få klik kunne komme frem til videoer med børn i upassende situationer.
Flere af videoerne var som udgangspunkt uskyldige, men nogle YouTube-brugere skrev kommentarer til videoerne, hvor de linkede til et eller flere specifikke steder i videoen ("timestamps"), hvor børnene i videoerne var i upassende stillinger.
Nogle af videoerne var blevet gen-uploadet af andre end dem, der oprindeligt havde optaget videoerne, og hele problematikken blev understreget af, at når man først var inde og se de pågældende videoer, var der kun lignende videoer blandt de relaterede.
Krisen og kritikken af YouTube har fået en række annoncører (også danske) sætter deres kampagner på YouTube på pause.
Her er den oprindelige video, der forklarer problematikken:
Du kan læse mere i disse artikler:
Scores of YouTube videos with tens of millions of views are being inundated with comments by paedophiles, with adverts from major brands running alongside the disturbing content
↓
Medieindkøbere tror dog ikke, det får langsigtede konsekvenser for YouTube:
In a poll conducted by Digiday Research on Thursday, Feb. 21, only 14 percent of 100 buyers said they expect the crisis to have any impact on long-term spending on the platform. Nearly a third of buyers said they expect any cutbacks they make to be temporary. Meanwhile, 37 percent of respondents said the crisis would not impact their advertising plans for the platform.
↓
Nestle, Disney Pull YouTube Ads, Joining Furor Over Child Videos
Bloomberg
Youtube fjerner 400 kanaler efter anklager om pædofili
MediaWatch
? Facebook
? Britisk beskyldning: Facebook overskrev privacy-indstillinger
En rapport udgivet af britiske parlamentsmedlemmer anklager Facebook for bevidst at have overtrådt både privatlivslove og konkurrencelove. I rapporten fremgår det, at Facebook overskrev brugeres privacy-indstillinger i jagten på profit
↓
British Parliament takes aim at Facebook's 'digital gangsters'
Columbia Journalism Review
UK parliament calls for antitrust, data abuse probe of Facebook
TechCrunch
? Facebook klar til "meningsfuld regulering"
Facebook er ikke det samme selskab, som det var for et år siden, lyder det fra talsmand, efter britisk parlamentsrapport har rettet hård kritik mod platformen.
I rapporten bliver Facebook blandt andet beskyldt for at være en "digital gangster" [Finans].
? Facebook ruller "Fan-abonnementer" ud i fire lande
The Fan Subscriptions test is being expanded to four countries: the UK, Spain, Germany and Portugal. The feature allows fans to support the creators they love by paying them small recurring monthly payments. In exchange, they receive special rewards or exclusive content.
? Facebook kigger mod annoncefinansieret Watch
Facebook has a new funding program that matches publishers with top influencers for Facebook Watch shows. But Facebook is also being more candid about a future where it's not subsidizing most Watch programming.
Digiday
(Kræver abonnement)
❓ MTV klar med quiz på Facebook Watch
"MTV Stax," which launched Feb. 18, will broadcast live from MTV's studio in London three times a week for the next 10 weeks. Players of the quiz show, hosted by MTV news presenters like Tinea Taylor and Tyler West, have to answer 10 questions in order to win a cash prize of £1,000 ($1,292). Questions are themed around general entertainment, music and topical music news.
? Zuckerberg: Annonce-frit Facebook er ikke så nemt
Facebook CEO Mark Zuckerberg has long argued that Facebook needs to be free in order for the company to accomplish its mission of connecting the world. But wouldn't a subscription optionsolve many of Facebook's problems?

Not exactly, according to a new interview Facebook published Wednesday, February 20, in which Zuckerberg spoke at length with a Harvard law professor about all kinds of topics, from "fake news" to blockchain to augmented reality.
? Sådan kan du bruge Facebooks Ad Manager i Excel
ith the Facebook Ads Manager add-in on Excel, you can create a single report showing the performance of your ads, ad sets and campaigns. You can dig further and breakdown by demographics, and actions taken on the ads. You can filter by a variety of options and personalize your template to show you only the data you want to see.
# De andre
? Instagram tester donationer i Stories
The Facebook-owned photo and messaging social app is reportedly testing a donation sticker on Stories as a fundraising tool for organizations and personal causes.
? Norsk million-succes på Snapchat har 1/3 danskere
Korte inspirationsvideoer om madlavning giver norske Matkanalen 1,4 mio. unikke seere månedligt på Snapchat. En tredjedel ser med fra Danmark, siger tv-chef på kanalen, der er på vej med dansk lancering.
? Vil du beta-teste Twitters nye app?
Would you be interested in getting a look at the latest Twitter features being tested before they were released to the public?

Well, yo<u're in luck – this week, Twitter has announceda new application process for its beta test pool, which aims to "explore new ways to make the conversations you care about easier to read, understand, and join".
?? Twitter udvider regler for politiske annoncer til EU
Launched in the U.S. last year, the Ads Transparency Center allows anyone — whether a Twitter user or not — to see all of the Twitter campaigns an advertiser has run, the demographics targeted, and the amount of money spent on those ads.
? Hvilket indhold søger vi på de forskellige platforme?
Flipboard wants tighter abs, Pinterest wants good wine, and Linkedin wants to read about…shopping? Here are the kinds of content platform users seek (or avoid)
✨ Tips til din digitale markedsføring
The Pros and Cons of 5 Top Instagram Analytics Tools
Social Media Today
The 10 Top Social Media Tools Brands are Using to Succeed in 2019
Buffer
7 Creative Ways Brands Are Using Polls in Instagram Stories
Hootsuite
11 Reasons Your Website Speed Is Killing Your Social Media Marketing
Social Media Today
? TENDENSER

Her kan du læse nogle af ugens tendenser indenfor medier. Det kan være en ny metode eller tilgang, branchen forsøger at tage til sig.
? Vice Media lukker i Danmark
Ungdomsmediet Vice lukker sine medier i Norden som led i besparelser for det internationale medieselskab Vice Media. Reklamebureau fortsætter med hovedkontor i København.
↓
Tidligere chefredaktør for Vice: Unge er en vanvittigt flygtig målgruppe at nå
MediaWatch
Bureauer: Tidens tand satte punktum for Vice i Danmark
MediaWatch
"Man skal ikke undervurdere den stemme, Vice har haft blandt unge"
Journalisten
? Sådan lykkes Mediano
Siden podcastmediet Mediano gik i luften i maj 2016 er det ialt til blevet til 10.333.955 afspillede episoder.

Det skriver Medianos chefredaktør Peter Brüchmann i sin seneste blog, hvor han oplyser, at tallet stammer fra Soundcloud, hvor Mediano oploader alle deres afsnit. Her bliver alt talt med uanset om lytningen foregår via Spotify, iTunes eller andre platforme.
↓
Læs Peter Brüchmanns blogindlæg
? 5 tips til at nå de unge mediebrugere
Trods lukningen af Vice, endnu et dansksproget journalistisk medie målrettet unge, er der gode grunde til at fortsætte jagten på yngre målgruppers engagement, selvom sporene skræmmer, skriver Aslak Gottlieb.
De gode tips gælder ikke kun unge mennesker, hvis du spørger mig, så læs dem uanset hvilke brugere, du gerne vil have til dit medie 🙂
⚔️ Bliver Spotify eller Apple "Kongen af podcasts"?
The first thread is the prevalence of an understandable, but imprecise, assumption: that, by virtue of its spendy acquisitions, we're looking at an inevitable future in which Spotify is the new dominant — or even monopoly — power over the whole podcast industry. Which is to say, it's only a matter of time before the Swedish platform usurps Apple's position as the steward of podcasting, eschews Cupertino's traditionally hands-off approach that's allowed the medium to flourish on its own terms, and reshapes the industry on the basis of its own corporate needs.
? Skal Vox være et forbillede for lokalmedier?
Vinklen er amerikansk, men der er sikkert nogle danske lokalmedier, der kan have gavn af at tænke lignende.
Mike Beaudet, John Wihbey, and their team at Northeastern watched hundreds of hours of local TV news and found that "most local television news operations are sticking to a traditional format, a recipe that's been around for decades. News, weather, sports, and a dash of anchor happy talk. Wash, rinse, repeat." Videos from sites like Vox, NowThis, Snapchat, and Vice, meanwhile, "are eclectic and often have a more authentic feel and avoid the traditional storytelling approach of local TV news."
? Sådan bekæmper Google "Fake News"
At the Munich Security Conference last weekend, Google presented a white paper explaining how it tackles "deliberate efforts to deceive and mislead using the speed, scale and technologies of the open web" across the likes of Search, News and YouTube. Its work falls broadly into three categories: quality, malicious actors and context.
↓
Google says it's fighting misinformation, but how hard?
Columbia Journalism Review
? Google-initiativ skal uddanne journalister i Australien og New Zealand
The latest Google News Initiative (GNI) effort aims to equip up to 4,000 reporters in Australia and New Zealand with free digital training this year, building on its missionto support local newsrooms.
? Knight Foundation uddeler 300 mio. dollars
The John S. and James L. Knight Foundation will provide a whopping $300 million over five years to organizations including the American Journalism Project, Reporters Committee for Freedom of the Press, and and ProPublica, the foundation announced Tuesday.
? BUSINESS

Her kan du læse nogle af ugens historier og tendenser indenfor forretningsudvikling i mediebranchen. Altså det, der handler om at tjene penge.
? Franske medier i fælles logind-løsning
Media companies eager to deepen relationships with their audiences are teaming up and turning to unified login systemsso users can access multiple media sites through a single email address.
? Sådan finder NYTimes abonnenter udenfor de sædvanlige markeder
Even after posting better-than-expected growth last quarter, the company has a herculean task ahead. Reaching 10 million customers would more than double its current total of 4.3 million.
? Konkurrence mellem nyhedsmedier og magasiner analyseres
Spørgsmålet om digital nulmoms på nyhedsmedier går ind i sin næste fase, når en analyse af konkurrencen mellem nyhedsmedier og magasiner gennemføres i løbet af de kommende måneder.
? Europæiske medier fokuserer på fastholdelse
With growing confidence in their own subscriber acquisition strategies, European publishers are making retention a higher priority this year while satisfaction with platform support has declined, according to a report from German media house Axel Springer.
↓
Selskab med fynske mediemillioner i ryggen hyrer kræfter fra TV 2 News til udrulning
MediaWatch
? Medium på vej med egne udgivelser
On Feb. 14, Medium began posting job listings for four new magazines it intends to host on its platforms. The publications, which will cover science and technology, business, health and general interest, will be comprised of "original features, columns, and essays by known and unknown writers and experts," according to the listings.
? Har jagten på "viewability" skadet brugeroplevelsen?
To some publishers, theoverall push to attain high ad viewability has come at the expense of, and a detriment to, the user experience. After all, ad viewability was introduced as a metric to appease ad buyers that they weren't squandering budgets on ads that weren't seen because they weren't visible on the page. It was never about enhancing the user experience.
? US: Digital annoncering er større end print og fjernsyn
It was inevitable, but it's finally here: Digital advertising businesses like Facebook and Google will be bigger in the US this year than traditional advertising businesses like TV, radio, and newspapers.
? Disney trækker Marvel-serier ud af Netflix
Banen er ved at være kridtet op til den streaming krig, som Digiday skrev i december, ville starte i 2019.
– Det her handler om, at Disney kan selv, og hvad skal de så med Netflix, Yousee og DR for den sags skyld? Det skulle ikke undre mig, at Disney også trækker rettigheder til et lille program som 'Disney Sjov' også, men nu må vi jo se.
? UDVIKLING

Her får du et kig på nogle af ugens historier indenfor den digitale udvikling og teknologi, der enten direkte eller indirekte kan have betydning for medier/udgivere.
? Google dropper blokering af adblockere
Google was proposing that instead, ad blockers could provide the browser with a list of blocked sites and have the browser itself perform the blocking, using a new API called declarativeNetRequest. This prevented the use of more complex algorithms, and the size of this list was capped at 30,000 entries—far fewer than many ad blockers typically use.
↓
Google trækker i land: Vil ikke spænde ben for ad-blockere
Version2
? Se en tidlig udgave af Google Maps-AR
Det her giver så meget mening: Google eksperimenterer med at bruge Augmented Reality til at vise dig din rute. Det vil sige, at du holder telefonen op og ser din omverden igennem kameraet på din telefon, som Google Maps-app'en så lægger din rute ovenpå.
Google Maps-holdet fandt dog ud af, at vi ikke gider gå rundt med vores telefon foran os i længere tid, så det er designet til korte "bursts", hvor vi lige skal tjekke, at vi er på rette vej.
Læs mere og se video hos TechCrunch
? Alexa-ejere kan dele deres "skills" med andre
Amazon is making voice apps created by Echo owners available in the Alexa Skills Store. In contrast to the more technical process through which the average Alexa skill is made, Skill Blueprints are made with easy-to-use templates that require no coding, allowing anyone to make their own voice app.
? "Fake News"-AI er muligvis for farlig til offentliggørelse
The creators of a revolutionary AI system that can write news stories and works of fiction – dubbed "deepfakes for text" – have taken the unusual step of not releasing their research publicly, for fear of potential misuse.
↓
Og på dansk:
Tør ikke frigive ny AI-algoritme, som digter historier: Kan lave troværdige falske nyheder
Version2
? Nu kommer den foldbare telefon
Det er nogert, der har været snakket om længe. Det bliver interessant at se, om det kommer til at betyde noget for det indhold, vi ser på vores telefoner.
Samsung's foldable phone is the Galaxy Fold, available April 26th starting at $1,980
⛓️ Blockchain-marketing er i vækst
We've been tracking the landscape of companies emerging to disrupt marketing with blockchaintechnology, and, since our first overview in September 2017, the space has expanded rapidly. At that time, there were 22 companies in the landscape. By earlier 2018, there were 88. And now, as of Q1 2019, there are 290. That's a growth of 13x in just 18 months.