Opsamling: Medier og teknologi / Uge 22, 2017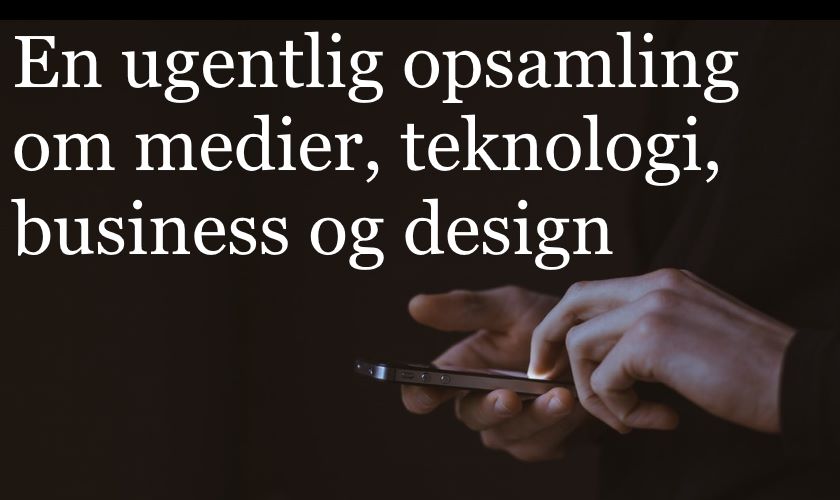 ℹ️ Hvad er det her?
Hver uge udgiver jeg en opsamling med noget af det bedste indhold, jeg er faldet over i ugens løb indenfor medier, teknologi og det, der ligner.
? Følg med på mail:

Tilmeld dig
nyhedsbrevet
, så sender jeg dig en fin mail, håndskrevet til lejligheden, når der er nyt at læse her på siden:

Bemærk: Du får ikke en mail, så snart, jeg har udgivet nyt – i stedet samler jeg op og sender hyppigst en gang om ugen. Hvis du vil følge med og vide det, så snart, der er nyt skal du følge med via RSS-feed'et.
? Meddelelse fra redaktøren
Efter et par ugers pause (*host host* barsel *host*) er opsamlingen nu tilbage. På grund af pausen skuer den liiige lidt længere tilbage end blot denne uge. Det er en ordentlig omgang, men hvis noget skulle være glippet i svinget, så fortæl os andre om det i en kommentar nederst. Tak.
↓
? Generelt / tendenser
? Facebook eksperimenterer med lokalnyheder
Indtil videre er det kun på amerikansk skala, men det er stadig værd at holde øje med:
Those tests, part of the Facebook Journalism Project, have just begun, but they're all aimed at helping people discover and engage with news outlets in their communities, a Facebook spokesperson told Poynter.
→ Læs mere hos Poynter: Facebook is testing products to connect its users to local news
↓
? …og erkender endnu en målefejl
Marketing Land skriver:
Facebook has messed up on its math again. More notable than the error itself is the fact that, by my count, this is the tenth measurement mistake that the company has disclosed since September 2016 and the first that resulted in Facebook mischarging advertisers.
→ Facebook admits its 10th measurement mistake since September
↓
? Dansker i spidsen for FN-projekt der skal redde videnssamfundet
Fra Mandag Morgen:
Med en helt ny vidensplatform, der vil gøre brug af de mest moderne digitale kommunikationsmetoder, skal verdenssamfundet bringes tilbage til de gode gamle dage, hvor politiske diskussioner i langt højere grad foregik på et informeret grundlag, og hvor regulære fakta og videnskab var udgangspunktet for alle større diskussioner og beslutninger. Og hvor det normbaserede fællesskab arbejdede for at styrke demokratiet og skabe fremgang for flest mulige.

"Vi bliver nødt til at få skabt noget konsensus i samfundet, hvis vi vil forhindre den næste store katastrofe," siger den danske entreprenør, topchef og verdensmand Jimmy Maymann, der er nyudnævnt formand for UN Live Online.
→ Læs mere: Globalt vidensprojekt skal bringe verdenssamfundet tilbage på sporet
↓
? Apple News ansætter chefredaktør
Fra Politico:
Morning Media has learned that Apple has given the job — a new position at the Cupertino-based company — to Lauren Kern, one of New York magazine's most high-ranking editors and a former deputy editor at The New York Times Magazine.
→ Læs mere: Politico | MediaWatch
↓
? Danske Atlas crowdfunder sig fra lukning
Journalisten har en god nyhed – og en redaktør har en pointe:
Netmediet Atlas har mistet næsten en halv million kroner, da Medienævnet i start april trak en fjerdedel af innovationsstøtten tilbage. Men 250.000 kroner, som Atlas har indsamlet på nettet, redder mediet. Redaktøren mener, reglerne er for bureaukratiske og håber stadig at få støtten
→ "Det er umuligt at være uafhængigt medie uden en eller anden form for mediestøtte"
↓
? Her er Justitsministeriets vejledning til EU-persondataforordningen
Justitsministeriet er efter en måneds forsinkelse klar med den store vejledning til EU's kommende persondataforordning, der kommer til at få konsekvenser for alle danske virksomheder. Se vejledningen her.
↓
? Mobil
?️ "Dræb AMP, før AMP dræber web"
Hos det britiske IT-medie The Register har Scott Gilbertson en skarp kritik af Google AMP-format (Accelerated Mobile Pages):
Quite a few high-profile web developers have this year weighted in with criticism and some, following a Google conference dedicated to AMP, have cautioned users about diving in with both feet.

These, in my view, don't go far enough in stating the problem and I feel this needs to be said very clearly: Google's AMP is bad – bad in a potentially web-destroying way. Google AMP is bad news for how the web is built, it's bad news for publishers of credible online content, and it's bad news for consumers of that content. Google AMP is only good for one party: Google. Google, and possibly, purveyors of fake news.
Det er i øvrigt den samme problematik, som faste følgere af denne blog måske har set i denne The Verge-artikel, der var med i opsamlingen fra uge 49 i 2016:
While feed formatting isn't anything new, platforms like Google AMP, Facebook Instant Articles, and Apple News are also further breaking down the relationship between good design and credibility. In a platform world, all publishers end up looking more similar than different. That makes separating the real from the fake even harder.
Kritikken fra The Register bliver i øvrigt bakket op af John Gruber fra Daring Fireball:
But other than loading fast, AMP sucks. It implements its own scrolling behavior on iOS, which feels unnatural, and even worse, it breaks the decade-old system-wide iOS behavior of being able to tap the status bar to scroll to the top of any scrollable view. AMP also completely breaks Safari's ability to search for text on a page (via the "Find on Page" action in the sharing sheet).
↓
⚡ Facebook åbner for konvertering fra Instant Articles til AMP og Apple News
The move comes after a number of high-profile publishers have stepped back from Facebook's distributed-content offering, preferring to direct Facebook mobile users to their websites.
→ Læs hele historien hos Nieman Lab
↓
? Kampen om låseskærmen
I denne artikel fra Journalism.co.uk handler det specifikt om, hvordan amerikanske medier dækkede FBI/Comey/Trump-sagen, men perspektivet er alligevel interessant at holde fast i:
[Eric Bishop, assistant editor for mobile] pointed out that with a limited number of characters available, prioritising what to include is a main consideration. The outlet did not include Comey's title in each alert, for example.

"There's also a question of follow up alerts, so how much knowledge do we assume from the reader? Do we need to explain who Comey is in every alert?"
↓
? Mashables nye mobilsite er inspireret af Snapchat
Tilbage i marts blæste jeg til kamp mod scrolling på mobilen – dengang inspireret af Mediums 'Series'-format, der er inspireret af Snapchats 'Stories'-format, hvor man ser en side ad gangen.
Det er en fantastisk læse-/brugeroplevelse, og nu følger Mashable trop. Digiday beretter nemlig, hvordan den nye Mashable-mobiloplevelse er inspireret af Snapchat Stories. Spændende.
↓
? Sådan fandt The Economist sin niche på Instagram
De fleste medier er nok interesserede i Instagram, men kæmper med, hvad man skal gøre der. For det er nærmest umuligt at skaffe trafik fra den billedcentrerede tjeneste, og er man et sted, hvor det er den eneste valuta, er det nok svært.
Men det britiske tidsskrift The Economist ser det angiveligt anderledes (de lever også godt af abonnenter), og i denne Medium-artikel fortæller deres digitale sociale medier- og billedredaktør om deres erfaringer med Instagram.
Mere Insta:
↓
? Forretning
? Forretningsmodeller hos de europæiske medier
Though their strategies vary, European publishers are moving away from offering all of their content online for free, according to a factsheet released Wednesday by the Reuters Institute for the Study of Journalism. The factsheet looks at the different kinds of paid content (freemium, metered paywalls, hard paywalls) across 171 different news organizations in the U.K., France, Germany, Italy, Finland, and Poland.
Mere i samme dur:
↓
✋ TV2.dk på vej med nej tak til "spredehagls"-annoncer
Vil du sige ja til nyhedsbreve fra udvalgte annoncører, hvis det betyder, at du slipper for annoncer, når du besøger tv2.dk og TV 2 apps? TV 2 satser på, at mange vil svare ja til det spørgsmål, skriver MediaWatch.
TV 2 har også selv en artikel om valget, Tag kontrol over din reklameoplevelse på TV 2s digitale platforme:
Med 'MinReklame får du nemlig muligheden for at sige 'nej tak' til reklamer på tv2.dk og i TV 2s apps mod til gengæld at sige 'ja tak' til at modtage personligt rettede nyhedsbreve fra udvalgte annoncører – på e-mail. Nyhedsbrevene kan naturligvis tilpasses og afmeldes til enhver tid.
↓
? Ørskov vil have medierne i offensiv overfor annoncørerne
"Vi skal ud af defensiven i forhold til annoncørerne. Det kan sagtens være, at de kan nå deres målgrupper mere præcist via de sociale medier. Men hvis deres annoncer drukner i en sump af misinformation og propaganda og oven i købet medvirker til at finansiere svindel- og terrorvirksomhed, er det knapt så interessant," lød det fra Danske Mediers formand.
↓
? The Information-stifter: Nyheder skal bundles
Jessica Lessin, der er stifter af og chefredaktør for teknologisitet The Information (som jeg er meget glad og tilfreds abonnent på) skriver:
News publications should take a leaf from the cable TV industry's playbook and strike bundling deals, aggregating a few publications in one fee. Any subscription publication could be the aggregator.
→ Læs: What's Next in the Business of News
↓
? Problemet med 'news bundles'
Fra The Information:
Scroll CEO Tony Haile argues that the best way to put together a subscription bundle of news content is to guarantee readers an ad-free "experience" across a range of premium sites without access to all the content. That would eliminate the problem of slow-to-load pages. And it wouldn't cannibalize single-site subscriptions.
→ The Trouble With News Bundles
↓
⌚ Sådan tager NPR stilling til nye platforme
"Folks in the building have the same questions. I heard somebody talking about the fridge the other day — 'Is that true, we're on a fridge?' I said, yeah," Ha-Hoa Hamano, NPRs senior product manager, told me, amused at my excitement.
→ How NPR considers what new platforms — from smartwatches to fridges — will get its programming [Nieman Lab]
↓
? Om Snaps udfordringer med vækst
Fra The Information:
Differences between Snap CEO Evan Spiegel and Snap's growth team slowed the company's response to early signs that user growth was weakening severely. The differences reflect Mr. Spiegel's dislike of Silicon Valley's growth tactics like push notifications. It shows the challenges facing Snap as competition from Facebook intensifies.
→ Inside Snap's Growth Struggles
Mere Snap:
↓
? Udgivere begynder at forlade Medium
Udgivelsesplatformen kæmper i øjeblikket med en finde ud af, hvor pengene skal komme fra, efter man i starten af året droppede annoncer som indtjening. Og nu er nogle ved at få nok af usikkerhederne. "After being wooed by Medium, some publishers are beginning to leave" skriver Poynter:
Film School Rejects, another publisher brought aboard by Medium last year, has also left. In a blog post on Film School Rejects' new WordPress site, founder Neil Miller explained that the decision was prompted by changes at Medium that made it harder to pay for the company. In January, Medium canceled its "Promoted Stories" advertising network rather than participate in what Medium CEO Ev Williams called "the broken system" of "ad-driven media on the internet."
Her er endnu et medie, der smutter: Bill Simmons Signs Deal to Move Sports Site to Vox Media [The Wall Street Journal]
…
Hvad siger Medium-chefen? "I think the internet is broken" [The New York Times]
↓
? The New York Times åbner op på Medium
Det går dog også lidt den anden vej. The New York Times lancerer deres 'Open' blog på netop Medium:
First, while the blog began life with an engineering focus, we are expanding coverage to include everyone who builds our digital products at the Times. You'll see posts on design, product development, management, editorial, and yes, definitely engineering. Most posts will come from our team, but you may also see occasional guest posts, from people we are collaborating with in some way.
↓
? Organisation / Proces
? Inden du ændrer din strategi, skal du ændre måden, du tænker på
Dette eksempel handler om biler, men det er noget, vi alle skal huske på.
VW is replicating Tesla's business model but with the wrong mental model. VW thinks of itself as a car manufacturer that uses technology. Tesla, on the other hand, thinks of itself as a technology company that manufactures cars. VW would say its cars have sophisticated computers. Tesla CEO Elon Musk has said of the Model S, "It's a very sophisticated computer on wheels."

This difference in mental models generates very different measurement models. With a manufacturer mindset, the car industry is heavily focused on measuring changes from one model year to the next. By contrast, Tesla's technology mindset has it thinking in terms of software releases and downloads rather than model years and shipments. Musk has said, "Most cars don't improve over time. But the Model S gets faster and better."
→ Læs mere hos Harvard Business Review
? Pas på med sportsmetaforerne
Det er populært (og nemt) at sammenligne en virksomhed med ens favorithold, men sammenligningen holder altså ikke vand, lyder advarslen i en artikel i Harvard Business Review:
The very idea of zero-sum competition (for me to win, you must lose) feels like a relic from a long-ago era of business. Virtually every industry has room for plenty of different winners, each of which is great at serving a distinct piece of the market or a certain set of customers.
→ Why Sports Are a Terrible Metaphor for Business
↓
? Sådan har Microsoft arbejdet med at ændre kulturen
Måske har du lagt mærke til det. Jeg har i hvert fald. At Microsoft har fået et noget mindre blakket ry end tidligere, at nogle af de ting, de laver nærmest er – tør man sige det? – cool..?
Hvis du også er nysgerrig, kan du læse mere hos Computerworld: Efter århundredets midtvejskrise: Sådan vendte Microsoft kulturen og blev igen en af verdens mest innovative virksomheder
"Skiftet i kulturen har betydet, at vi nu kan udvikle apps til iPhones eller Android-tablet, og at vi endda omfavner Linux-platformen. Det var en virkelig svær pille at sluge for mange af de gamle Microsoft-ansatte, men det var nødvendigt, for hvad hjalp det, at vi udviklede gode Office-apps til Windows Phones, når nu alle forbrugerne købte iPhones?" siger Timothy O'Brian [general manager hos Microsoft Communication].
↓
✏ 

UX / Design / Teknik
⏩ Moores lov er død – men kunstig intelligens buldrer videre
Da man første begyndte at tale om kunstig intelligens og robotter tilbage i 1940erne-1950erne var en af bekymringerne robotter, der kan avle sig selv. Ironisk nok ser det ud til, at det præcis er det, vi forsøger at gøre nu:
Google CEO Sundar Pichai was obviously excited when he spoke to developers about a blockbuster result from his machine-learning lab earlier this month. Researchers had figured out how to automate some of the work of crafting machine-learning software, something that could make it much easier to deploy the technology in new situations and industries.
Det kan du læse mere om i artiklen 'How AI Can Keep Accelerating After Moore's Law' [MIT Technology Review] – Moores lov siger:
The complexity for minimum component costs has increased at a rate of roughly a factor of two per year. Certainly over the short term this rate can be expected to continue, if not to increase. Over the longer term, the rate of increase is a bit more uncertain, although there is no reason to believe it will not remain nearly constant for at least 10 years. [Citeret fra Wikipedia]
Takket være nye, smartere chips (GPU'er) kan den kunstige intelligens fortsat udvikle sig:
Engineers have kept GPUs getting more powerful because they can be more specialized to the particular math they need to perform for graphics or machine learning"
↓
⬜ Derfor er whitespace så effektivt
Whitespace (altså områder på for eksempel en hjemmeside, hvor der ingenting er andet end hjemmesidens baggrundsfarve) kan noget. Du lægger måske ikke mærke til dem, men de gør alligevel din oplevelse bedre.
Hvordan det kan være, kan du læse mere om i denne artikel skrevet af folkene bag designværktøjet Sympli.
↓
?️ Tips til store billeder på små skærme
Dette er en problemstilling, de fleste medier, journalister, fotografer/fotojournalister kender til:
When a site needs to work on several different devices, many designers simply resize each image in the large screen design to make it fit smaller screens. However, images that work well on large screens do not always translate well to small screens. They may not retain their meaning at a smaller scale, they may be cropped inappropriately, or they may cause unneeded scrolling. (Conversely, images that work well on small screens may not work well for large screens.)
→ Få hjælp hos Nielsen Norman Group
↓
? DevOps: Derfor er fejl vigtige
One critically important concept for any organization beginning to adopt its own DevOps culture is by accepting the idea of "Learning from Failure." If your team or company culture does not place a high value on learning and striving for improving upon failure in processes, tools, and individuals in a continuous manner, then any efforts to roll out DevOps will fail.
→ Læs mere hos InformationWeek
↓
? Hvad er test-drevet udvikling?
Test-driven development (TDD) is not new but it certainly is in vogue. It was originally invented by Kent Beck as part of his extreme programming methodology, back in the 1990s and has continued to gain adherents ever since. In our 2016 open source languages survey almost half of all respondents mentioned TDD as being a development methodology they use.
↓
? UX-mål → Analyser
Focus on UX goals to drive analytics measurement plans, rather than tracking superficial metrics. Identify the core goal of a design to meaningfully measure it.
→ Læs mere hos Nielsen Norman Group
↓
?️ 50 designfirmaer du bør følge på Twitter
Whether you work in graphic design, web design or 3D, the web is full of inspiring content – and Twitter is a great place to find it. But the social media platform can be an overwhelming experience if you don't know where to look.
↓
? Så er der Machine Learning-kurser!
Så er det vist bare med at komme i gang (-:
Every single Machine Learning course on the internet, ranked by your reviews
Foto i toppen: Pexels
Denne opsamling blev oprindeligt udgivet på ebudvikling.dk