Digital Ugerevy: Uge 43, 2018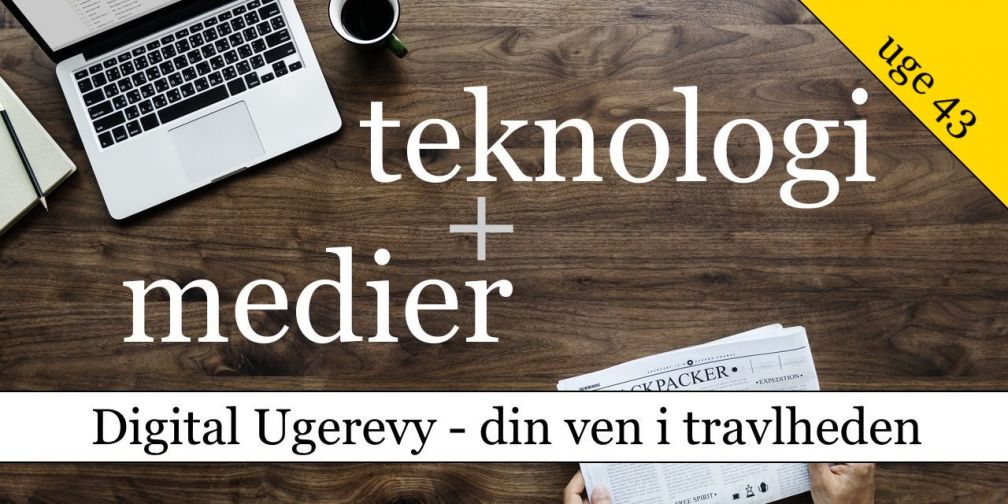 Mit navn er Lars K Jensen, og jeg arbejder som leder af produktudvikling hos Infomedia.
Hver uge deler jeg en opsamling på noget af det mest interessante, jeg er faldet over indenfor digital udvikling og forretning i og omkring mediebranchen.
Det betyder, at du sparer tid: Du behøver ikke læse en masse artikler og nyhedsbreve for at holde dig opdateret.
Tak fordi, du læser med.
? Følg ugerevyen
Det letteste er at følge med på mail. Så får du en mail hver weekend med link til ugens opsamling:

Du får kun én mail om ugen – det lover jeg.
↓ Here we go ↓

? SOCIALE MEDIER
Her finder du historier om eller fra de store sociale platforme, der har en enorm rolle at spille i kontakten mellem udgiver/afsender og modtager.
---
?? Ældre mennesker spreder flest falske nyheder
Det er i vid udstrækning ganske almindelige borgere, ikke fremmede magter, som spreder misinformation og fake news på nettet. Særligt de ældre er udsatte – og skyldige i deling af løgn. Aldersgruppen 60+ bør rustes digitalt til den snarlige valgkamp, anbefaler forskere.
---
? Facebook kan nu evaluere falske overskrifter separat fra falske nyheder
Facebook has this week confirmed that it is now able to penalize false news and false headlines separately, after concerns that the two are not always connected.
---
? Rygte: Facebook på jagt efter sikkerhedsfirma
Ifølge rygter forsøger Facebook at købe et cyber-sikkerhedsfirma efter alle skandalerne. Læs mere hos The Information.
---
? Hvad kan hackere gøre med stjålne Facebook-data?
"Having accurate, detailed data, and a large amount of data, makes spamming campaigns more profitable," says Jérôme Segura, lead malware intelligence analyst at the network defense firm Malwarebytes. "And this Facebook data is very unique. It has a lot of value, because it's from people supplying the information genuinely and saying 'I checked in at this hotel or here are some of my interests.' It's a priceless database trove for marketers."
---
? Facebook Messenger får nyt design
After years of revenue-focused expansion into bots, games, payments, and other distractions, the company is bringing Messenger back to basics. While all those extra widgets are still present in the app, they've mostly been hidden away in spots where you can safely ignore them.
↓
Mere ny Messenger:
Facebook Messenger 4 will make it easier for users to connect with brands [Marketing Land]
---
? Nyt Facebook-dashboard til annoncører
After months of testing, Facebook has launched its new Attribution dashboard, which will enable advertisers to get more in-depth insight into how each element of their Facebook presence is performing, including data on contribution to sales and comparative measurement.
---
❓ Facebook tester afstemninger i video-annoncer
Facebook has confirmed SMT that the ad variant is currently in testing with a small group of advertisers, though it's too early to say whether it'll be made more widely available at this stage. But it certainly looks appealing – you can imagine that many users will stop mid-scroll and pay attention, likely more so than they would with a regular Facebook ad.
---
? Facebook bruger mange annonce-penge på… Facebook
The political advertiser spending the most money on Facebook ads is … Facebook?
---
? Cambridge Analytica-bøde til Facebook
Skandalen om læk af Facebooks brugerdata til firmaet Cambridge Analytica resulterer i en bøde på en halv mio. pund i Storbritannien.
---
?️ Oculus-stifter forlader Facebook
For nogle uger siden forlod Instagram-stifterne Facebook, der købte Instagram. Så gik en af WhatsApp-stifterne (der også blev købt af Facebook) ud og talte ærligt om et problematisk forhold til Mark Zuckerberg.
Nu er det så en af stifterne af Virtual Reality-firmaet Oculus, der forlader skuden.
---
? Instagrams største opdateringer i 2018
To help, here's a listing of the most important Instagram updates and opportunities from the last 12 months to be aware of in your planning. If you're not on board yet, you definitely need to have it in mind – and keep these developments in your consideration.
---
?? Teenagere foretrækker Instagram fremfor Snapchat
Eighty-five percent of teens report using Instagram at least once a month, outpacing Snapchat at 84%, according to CNBC's reporting on Piper Jaffray's "Taking Stock With Teens" survey.
---
? Snapchat tjener flere penge på færre brugere
Snap sees revenue jump 43% in Q3 2018, but loses 2 million daily active users
---
? Twitter har mistet 9 millioner brugere
Det skyldes ifølge Twitter selv, at der er ryddet op i bots og lignende:
In today's third quarter earnings release, Twitter announced that its number of monthly active users has declined for the second straight quarter as the company seeks to rid its platform of spam, bots, and hateful content.
---
? Videovisninger er "en værdiløs størrelse"
"Every good advertiser has known for some time video views is a worthless metric not worth our time or money," said David Herrmann, director of advertising at Social Outlier.

Jared of Genie Goals said he used to look at video views, but now he's more focused on other metrics like cost per acquisition, cost per impression, cost per click, click-through-rate and return on ad spend.
---
?? LinkedIns nye algoritme forklaret på dansk
Hvis du ligesom jeg ikke er i top 1% af influencer på LinkedIn, så vil du byde den nye algoritmeopdatering særdeles velkommen. Den har til formål at skabe bedre forudsætninger for 98% af alle brugerne, når de laver indlæg. Fremadrettet vil de tage 8% af det engagement, som de største influencer får og fordele det ud til de 98% almindelige brugere.
---
? Sikkerhed og privatliv holder "social commerce" tilbage
The survey found 82 percent of respondents have not used a social buy button, which is unchanged from the findings in 2016. However, 18 percent have made direct purchases through a social site.

? MEDIER /TENDENSER
Her kan du læse nogle af ugens tendenser indenfor medier. Det kan være en ny metode eller tilgang eller ny teknologi, branchen forsøger at tage til sig.
---
? Så tæt var vi på et dansk Spotify for nyheder
Mads Kristensen, der er tidligere digital direktør i Berlingske Media, har skrevet en artikel om, hvor tæt han og andre var på at kunne bygge og lancere et samarbejde omkring betaling for indhold:
Naturligvis ikke. For der var gået politik i det. Det handlede ikke om en fælles udfordring mere. Det handlede ikke om en mulig løsning. Og det handlede slet ikke om med nysgerrighed at prøve noget af for om ikke andet så at blive klogere hver især. Det handlede ene og alene om corporate forfængelighed af den slags, der gør mennesker som jeg — der er drevet af at få gode ting til at ske og skabe nye digitale forretninger — træt som i t-r-æ-t
---
⚽ Ny Bold.dk-chefredaktør vil se på brugeradfærd
Anders Borup Sørensen vil bl.a. sætte brugerne mere i centrum, når han overtager jobbet som chefredaktør på bold.dk. Samtidig venter en opgave med at udvikle forretningsmodellen.
↓
Mere Bold.dk:
Server-flytning tvang en af Danmarks mest læste nyhedssider i knæ [Version2]
---
? Nu kommer "slow news"
Nyheder er blevet til støj og alt for mange medier jagter breaking, men misser selve historien. Derfor er det nu, at vi skal tage en dyb indånding og slow down.
---
▶️ The Atlantic bygger sin videostrategi op omkring YouTube
The Atlantic is not about to fire its writers to make a pivot to video. Instead it is pivoting its video strategy around its writers as the publication assesses its broader ambitions for the format and how it can benefit its business.
---
? The Economist dedikerer side i magasinet til data
The Economist has introduced a new data journalism page into its print edition to better engage with readers through visual storytelling.

'Graphic detail', which is named after the online home of The Economist's data journalism, will feature one story per weekly edition by the team of reporters at the publisher.
---
↩️ Wikipedia-stifters medie ændrer fokus
WikiTribune, the ambitious community-driven newsbrand backed by Wikipedia founder Jimmy Wales, has restructured after confirming to The Drum the departure of its original 13 journalists.
↓
Mere WikiTribune:
WikiTribune is handing the keys more completely to its users (after laying off its journalists) [Nieman Lab]
---
? Er streamingens guldalder snart forbi?
[…] if you're the kind of person who likes to keep up on everything, get ready to pay a lot more monthly fees.
---
? Apple på vej med TV-abonnementsservice i 100 lande
The speed at which Apple is moving shows how it is trying to catch up to rivals that have been operating video streaming services for years. Amazon Prime Video is in 200 countries while Netflix is in more than 190 countries. The head start its rivals enjoy could make it tough for Apple's new service to take off. Another issue is that the service will only be available to owners of its devices, including Apple TVs.
---
? 5 dollars for at snyde med Apples podcast-lister
I ugerevyen fra uge 41 kunne du læse en Nieman Lab-historie om, at vi muligvis ikke helt kan stole på Apples podcast-hitlister.
Nu har Nieman Lab arbejdet videre og via skumle kontakter fået gode placeringer hos Apple for bare 5 dollars.
Why do the charts work the way they do? Apple's explanation for why it doesn't simply track downloads and subscribers is actually a pretty good one: The Joe Rogan Experience would be pinned at the top, followed by powerhouses like Serial and This American Life. There would be very little movement otherwise. The company hopes that the charts can be, in part, a discovery tool, and that's why the algorithm takes into account podcasts that are on the move.
---
? Kulturordførere foreslår ny vidensportal
I en kronik foreslår kulturordførerne Alex Ahrendtsen (DF), Bertel Haarder (V) og Mogens Jensen (S), at der etableres en vidensportal, som skal samle en lang række af de opslagsværker, der er pressede på økonomien. Ud over [Den Store Danske Encyklopædi] drejer det sig bl.a. om Dansk Biografisk Leksikon, Danske Kirker, Weilbachs Kunstnerleksikon, Blå Bog og Danmark og Kolonierne
↓
Mere vidensportal:
Gyldendal roser forslag om encyklopædi – men holder tegnebogen i lommen [MediaWatch]

? MEDIER /BUSINESS
Her kan du læse nogle af ugens historier og tendenser indenfor forretningsudvikling i mediebranchen. Altså det, der handler om at tjene penge.
---
? Sjællandske Medier indfører betaling online
Sjællandske Medier har vokset sig til en størrelse, hvor tiden nu er moden til at søsætte digitale abonnementsløsninger. Det fortæller adm. direktør og ansv. chefredaktør Torben Dalby Larsen. Derfor lancerer det sjællandske mediehus i udgangen i oktober produktet sn.dk+, som vil indeholde online artikler bag en betalingsmur, adgang til e-avis samt arkivadgang til tidligere sn.dk-artikler.
↓
Læs også: Sjællandske Medier bygger betalingsmur online [MediaWatch]
---
? Facebook og Googles abonnements-værktøjer får blandet modtagelse
Publishers contacted for this story praised the platforms for being communicative and committed to these products but also groused that the tools were cumbersome to implement and had limited returns.
---
? Sådan bruger Financial Times lyd til at skaffe abonnenter
"The FT News Briefing" launched Oct. 22 as an eight-minute overview of daily business news stories and will also be distributed on usual podcast platforms like Acast, Apple and Spotify. The show will go live each weekday at 5 a.m. U.K. time to catch early-morning commuters. According to the FT, the majority of its audio listening happens before 9 a.m.
---
?
Sådan byggede Slate en event-forretning op om deres podcasts
I recently sat down with Faith Smith, the executive producer for Slate Live. We discussed how her team selects which cities to tour in, how she negotiates with event venues, and what podcast fans are willing to pay in order to watch a live podcast recording.
Medium / The Business of Content →
---
? Få penge til dit arbejde med medlemmer
The fund is built for sites around the world to experiment with membership models and principles, aiming to instill an ethos of transparent membership — and figure out what the heck works — beyond the U.S. and the Netherlands. And it's operating on a rolling basis through May 2020, so get your ideas in.

? MEDIER /UDVIKLING
Her får du et kig på nogle af ugens historier indenfor den digitale udvikling og teknologi, der enten direkte eller indirekte kan have betydning for medier/udgivere.
---
? Massivt annonce-snyd i Android-apps
A BuzzFeed News investigation uncovered a sophisticated ad fraud scheme involving more than 125 Android apps and websites, some of which were targeted at kids.
↓
Læs også:
Google responds to large ad fraud operation that utilized more than 125 Android apps [Marketing Land]
---
? Tim Cook er vild med GDPR
We should celebrate the transformative work of the European institutions tasked with the successful implementation of the GDPR. We also celebrate the new steps taken, not only here in Europe but around the world — in Singapore, Japan, Brazil, New Zealand. In many more nations regulators are asking tough questions — and crafting effective reform.
---
?️ Ny Firefox indholdet forbedret tracking-beskyttelse
Firefox 63's Enhanced Tracking Protection blocks cookies and storage access from third-party trackers, which Mozilla says targets the problem of cross-site tracking without breaking sites and impacting revenue streams like the original Tracking Protection. It does this by preventing known trackers from setting third-party cookies — the primary method of tracking across sites — but still gives you the option to block all known trackers (under Firefox Options/Preferences).