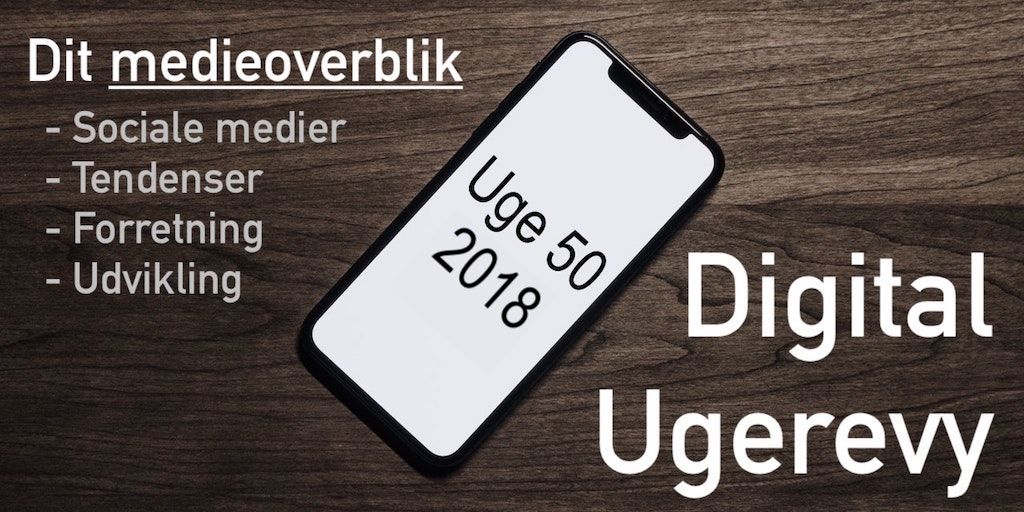 Mit navn er Lars K Jensen, og hver uge deler jeg en opsamling på noget af det mest interessante, jeg er faldet over indenfor digital udvikling og forretning i og omkring mediebranchen.
Det betyder, at du sparer tid: Du behøver ikke læse en masse artikler og nyhedsbreve for at holde dig opdateret.
Tak fordi, du læser med.
? Følg Digital Ugerevy
Det letteste er at følge med på mail. Du en mail med ugens opsamling, så du er opdateret og kan træffe bedre beslutninger:

Få det ugentlige overblik
Du får kun én mail om ugen – det lover jeg.
---
? Årets sidste opsamling
BEMÆRK: Dette er årest sidste Ugerevy. Opsamlingen vender tilbage i januar.
Derfor er der ekstra meget, du kan læse i denne omgang. Tag dig god tid 🙂
↓ Here we go ↓

? SOCIALE MEDIER
Her finder du historier om eller fra de store sociale platforme, der har en enorm rolle at spille i kontakten mellem udgiver/afsender og modtager.
---
? Endnu en Facebook-dataskandale
Reset the "days since the last Facebook privacy scandal" counter, as Facebook has just revealed a Photo API bug gave app developers too much access to the photos of up to 5.6 million users. The bug allowed apps users had approved to pull their timeline photos to also receive their Facebook Stories, Marketplace photos, and most worryingly, photos they'd uploaded to Facebook but never shared.
↓
Læs mere:
Facebook exposed up to 6.8 million users' private photos to developers in latest leak

|

The Verge >
Facebook Exposed 6.8 Million Users' Photos to Cap Off a Terrible 2018

|

Wired >
---
? Blander robotter sig i debat om migrationspagten?
I debatten om den omstridte FN-migrationspagt, som underskrives i Marokko mandag, har automatiske robotter efter alt at dømme været med til at sprede misinformation og budskaber imod dansk tilslutning til pagten. Det vurderer Udenrigsministeriet i en intern undersøgelse, erfarer Altinget.
↓
Mere om sagen hos Altinget:
Altingets chefredaktør, Jakob Nielsen, har skrevet en kommentar, du bør læse: Vi stoler ikke på nogen, men vi tror på alt
---
? Faktatjekkere er trætte af Facebook
Journalists working as factcheckers for Facebook have pushed to end a controversial media partnership with the social network, saying the company has ignored their concerns and failed to use their expertise to combat misinformation.
↓
Facebook har svaret igen:
Today The Guardian published a story about our third-party fact-checking program. We'd like to provide a response, as the piece presents several inaccuracies, and is based primarily on the account of a single fact-checker who hasn't been involved with the Facebook fact-checking program for six months. We provided information to The Guardian, but they chose not to include all of it.
---
? US: Sociale medier overgår aviser for første gang
It's not true that everyone gets their news from Facebook and Twitter. But it is now true that more U.S. adults get their news from social media than from print newspapers.
↓
---
?️ Facebook udruller Watch globalt på desktop
With the global roll-out of Watch on desktop and Facebook Lite, video advertisers running international campaigns on Facebook will have access to larger audiences as users will be able to access the video platform beyond their mobile app. According to Facebook, more than 75 million daily visitors spend, on average, 20 minutes on Watch.
↓
Facebook to Cut Funding for Some News Shows on Watch [The Information]
Facebook's Watch passes 400 million monthly active users [VentureBeat]
---
? Infografik: Facebook-forbrug og -trends i 2018
As 2018 comes to a close, it's interesting to reflect on the eventful year that was in digital marketing, and to look at what the latest trends point to as becoming more significant movements over the next 12 months.
---
? Sådan modererede Spaceship Media en Facebook-gruppe med 400
Spaceship had three full-time and two part-time staffers working on The Many at a given time: "We were moderating for 18 hours of the day. We specifically had times when all of us were on so we could talk to one another," García said. "We've found that's very important to be able to deal with things that might come up with the support of other people and not do it in a vacuum, especially since we were working remotely.
---
? Facebook vil teste søgeordsannoncer
Det er jo ellers ikke deres ting, men Facebook vil nu teste det annonceformat, der har gjort Google ganske rige.
USA og Canada er prøveballon i et nyt forsøg, hvor Facebook vil teste, om der er et marked for søgeordsannoncering for selskabet.
---
✨ "Life Events" på Facebook får nyt look
Now, users will be able to add animated photos or videos, photos from the people or Page you've tagged (like those of your partner or your new workplace), or you can pick an image from Facebook's own art collection, if you don't have your own.
---
? Instagram lancerer walkie-talkie-funktion
You'd think Facebook would be faster at copying itself. Five years after Facebook Messenger took a cue from WhatsApp and Voxer to launch voice messaging, and four months after TechCrunch reported Instagram was testing its own walkie-talkie feature, voice messaging is rolling out globally on Instagram Direct today.
---
⏬ Nu kan du lægge en nedtæller på dine Instagram-stories
Mon ikke, det er nogle marketers, der kan bruge dette til en masse ting?
When a user taps on your countdown sticker, they'll be given the option to either set a reminder for when the countdown ends, or to share the countdown with their followers.
---
?? Sådan bruges WhatsApp ifm. "Fake News" og vold i Indien
The five male victims in Rainpada were part of a string of killings that took place over the late spring and summer linked to messages spread on WhatsApp, the Facebook-owned encrypted messaging platform.
---
? Google har stadig ikke kuren til YouTubes problemer
The basic moderation problem has splintered into a number of different scandals over the past two years, including disturbing children's content, terrorism videos, white supremacy dog whistling, and radicalization via YouTube's algorithm. But when confronted on those issues at a House Judiciary hearing today, Pichai offered the same response that YouTube CEO Susan Wojcicki has offered in the past: there is no immediate cure.
↓
The Sundar Pichai Hearing Was a Major Missed Opportunity [Wired]
Sundar Pichai had to explain to Congress why Googling 'idiot' turns up pictures of Trump [The Verge]
---
? YouTube fjernede 58 millioner videoer mellem juli og september
The online video platform said 72 percent of the videos removed for violating guidelines in the latest quarter were "spam or misleading," 10.2 percent were removed out of concern for "child safety" and 9.9 percent were removed for including "nudity or sexual content," according to its latest report.
---
? Annoncører og udgivere deler resterne af Snapchat
Ghosting: As Snap's stock collapses and more users go to Instagram, advertisers and publishers share what's left of Snapchat
---
? Ezra Klein: Twitter har gjort journalister dummere
"It's making everybody talk about and think the same things all at the same time," he said. "The best journalists are the people who are finding things out or seeing things or hearing things that the other journalists aren't. You got to be pretty damn smart to look at what everybody else is looking at and see something they're not gonna see."
---
⏭️ 6 tips til din sociale medier-strategi for 2019
It's important to update and upgrade your strategy in alignment with the latest trends and shifts. Hopefully these notes will help you stay on track, and in line with the evolving digital landscape.
---
? Google+ lukker fire måneder før tid
I opsamlingen fra uge 41 kunne læse, at Google ville lukke deres sociale medier, Google+, efter et stort datalæk.
Nå, men på grund af endnu et datalæk, er lukningen blevet fremskyndet med fire måneder, skriver The Verge. Nu lukker det allerede i april.
According to Google, the new vulnerability impacted 52.5 million users, who could have had profile information like their name, email address, occupation, and age exposed to developers, even if their account was set to private. Apps could also access profile data that had been shared with a specific user, but was not shared publicly.

? MEDIER /TENDENSER
Her kan du læse nogle af ugens tendenser indenfor medier. Det kan være en ny metode eller tilgang eller ny teknologi, branchen forsøger at tage til sig.
---
? Mediernes Fremtid
Aske Kammer og jeg har bedt en række eksperter og profiler i mediebranchen give deres bud på medieåret 2019. Her kan du læse de første artikler – flere er på vej.
⚙️ Algoritmens lyksaligheder
Jeg tror, vi som mediebranche i 2019 bliver mere bevidste om, hvad algoritmer kan og ikke kan. Mennesker spiller fortsat en stor rolle, og den dystopiske fremtid, hvor maskinerne har taget vore jobs, er ikke lige om hjørnet.

Af Dennis Christensen, leder af DR Medieforskning
? Medieteknologi 2019: Justeringer inden de store slag
Indenfor teknologien bliver det kommende år en rutinepræget præsentation, der dog vil byde på rigeligt med udfordringer til medierne. 2019 bliver ikke året, hvor robotterne slår igennem, men de kommer, og de vokser med opgaven.

Af Søren Pedersen, big data developer hos Ekstra Bladet
? Brugerne er mediernes store mulighed i 2019
Hvad kan medierne lære af en vestjysk campingplads? Det handler om at forstå dem, man lever af.

Af Mads Kristensen, partner i Further
? Flere konflikter om sandhed og løgn
Den enes løgn er den andens sandhed. I det kommende år vil vi se endnu flere slagsmål om, hvad fakta egentlig er.

Af Lene Rimestad, freelancejournalist og ph.d. i journalistik
? 2019: Året hvor medierne igen går på opkøb
Efter flere år med fokus på omstrukturering og fokusering af den eksisterende forretning, er de store medievirksomheder nu på jagt efter ny vækst. Specielt vækst gennem opkøb. Her er tre argumenter for, hvorfor vi i 2019 vil se flere eksempler på store medier, der opkøber mindre startup-konkurrenter.

Af Anders Schäffner, Digital Produktchef hos TV 2
?️ Podcast – ny distribution eller fremtidens personlige lydmedie?
Det at kunne fortælle en god historie og kunne engagere lyttere med sin stemme er færdigheder, der bliver brug for i mediernes fremtid.

Af Karin Høgh, podcast-konsulent og podcaster
---
? Nieman Labs forudsigelser for 2019
Askes og mit projekt er meget inspireret af Nieman Labs årlige opsamling, hvor de beder kloge mennesker komme med deres bud på 2019. Her kan du se alle deres bud.
---
? Hvordan så 2018 ud for podcasting?
What kind of year has it been? When I sat down to plot this column last Tuesday, a few words popped to mind: busy, chaotic, confusing. Frankly, I'm not sure how I'll remember 2018 down the line, but I have some ideas of a few things that'll stick.
↓
Mere podcasting:
Podcasts Are Getting Newsier. Here Are 8 New Ones Worth a Listen. [The New York Times]
---
? Medier har i stigende grad brug for Product Managers
They, and other publishers have been stocking up on product managers because, as digital media grows faster-moving and more complex, publishers are being compelled to add people who can evaluate new opportunities, balance sales and editorial's competing priorities, helping to develop new, unfamiliar lines of revenue.
---
? Et hårdt 2018 skaber usikkerhed for medieåret 2019
The algorithm changes, and typical Facebook gyrations in strategy and priorities in the face of a harsh investigation into its role is society and politics, rolled across the publishing landscape in the year leaving wreckage behind.
↓
En til fra Digiday:
The Rundown: Publisher ranks brace for a rocky year ahead
---
? Berlingske er tilbage i fælles måling
Efter afsked med den fælles branchemåling for websites tidligere på året vender Berlingske Medias titler i 2019 tilbage til Dansk Online Index, oplyser koncernen.
---
? Sådan ramte danske medier de mest populære Google-søgninger
Google har offentliggjort de mest populære søgninger, og Jan Birkemose har undersøgt, hvordan de danske medier har klaret sig.
Bemærk, at der bliver rejst lidt spørgsmål ved metoden:
"Undersøgelsen er foretaget ved hjælp af et Google-vindue i incognito-tilstand […] det tætteste, man kan komme en neutral søgning" er ikke korrekt @JanBirkemose. Der er masser af reelle ranktjekkere derude, fx MOZ og Searchmetrics: https://t.co/FG5SNDC8K5 #dkmedier

— Martin Ingolf (@martiningolf) December 14, 2018
(Se også svarene til det tweet, blandet andet fra Jan Birkemose.)
---
?‍? SDU skruer ned for nyheder i undervisningen
Et opgør med nyhedens betydning på den journalistiske grunduddannelse, et nyt hold af journalistiske undervisere og et kommende mediecenter. SDU sætter fart på journalistikken "Vi har besluttet, at det er nu, vi rykker," siger Peter Bro, leder af Center for Journalistik
---
?? Den Store Danske bliver genoplivet
23 millioner kroner koster det.
Internetopslagsværket Den Store Danske Encyklopædi får en tiltrængt kapitalindsprøjtning fra dette års finanslov, men fremover vil den skulle understøttes af universiteter og staten.
---
? Sådan bruger BBC Earth brugerdata
Over the last year, BBC Earth, the public service broadcaster's natural history franchise, has been refining its YouTube channel, sticking to a more consistent schedule and using audience data to inform the creation of original digital series. […]

Increasingly, it's drawing on audience data and trends to inform how additional digital series are commissioned.

? MEDIER /BUSINESS
Her kan du læse nogle af ugens historier og tendenser indenfor forretningsudvikling i mediebranchen. Altså det, der handler om at tjene penge.
---
? Mediestøtte til 68 medier i 2019
En række nye medier kan se frem til at modtage redaktionel produktionsstøtte i 2019. Det viser den netop offentliggjort liste over medier, der er blevet tildelt støtte næste år.
↓
Sådan fordeler mediestøtten sig mellem mediekoncernerne [MediaWatch]
Journalisten: Uden innovationsstøtte eksisterede Science Report formentlig ikke i dag
En række medier får i 2019 dækket 24,9 pct. af deres redaktionelle udgifter i produktionsstøtte.
---
? TV 2 vil mere annoncørbetalt indhold
Et udfordret bannermarked får TV 2 til at satse stærkere på branded content. Derfor søsætter koncernen en ny platform og hyrer ny ansvarlig for TV 2's produktion af reklameindholdet til formålet.
---
? Facebook udvider abonnementsforsøg
We care about supporting quality journalism on Facebook, and we know many publishers are supported by subscription or other consumer-funded revenue business models. […] We have seen consistent, positive performance of the paywall since our earliest results were announced in June, and today we're announcing several updates to our subscription tools, and the addition of 28 publishers to the test.
---
? Apple på vej med magasinprodukt
The tech giant is preparing to relaunch Texture, an app it agreed to buyin March that offers unlimited access to about 200 magazines. The company plans to make it a premium productwithin Apple News, which curates articles and comes preinstalled on iPhones, according to people familiar with the matter. A new version could be unveiled as soon as this coming spring, said the people, who asked not to be identified because the plans aren't public.
---
?️ Hvad betyder medlemsskaber for BuzzFeed?
It would never go behind a paywall, unlike other news organizations "because your ability to access news is important every day"— but after raising half a billion dollars in venture funding, BuzzFeed has now started a quasi-membership program for readers to chip in at $5/month. (And if you pay up front for the year you get a tote bag!)
---
✉️ The Washington Posts nyhedsbrevsbutik har vokseværk
Since it launched as a single newsletter called PowerPost three years ago, the 202 has grown into a healthy sub-brand for the Post. A team of 14 people work on the newsletters full time, up from seven last year.
---
?? Google og udgivere tæt på enighed om GDPR
Google and publishers have made progress on discussions around some of the blockages to the adoption of the Interactive Advertising Bureau Europe's General Data Protection Regulation framework, sources close to the situation have claimed.
---
? Krigen om video-streaming starter i 2019
In 2018, the big TV companies finally got serious about streaming video. In 2019, it will be an all-out war as Disney, WarnerMedia and others make big, expensive bets in their escalating battle against Netflix and the other streaming giants. It's go big or go home.
↓
Netflix vil producere mere tv til de yngste i 2019 [MediaWatch]

? MEDIER /UDVIKLING
Her får du et kig på nogle af ugens historier indenfor den digitale udvikling og teknologi, der enten direkte eller indirekte kan have betydning for medier/udgivere.
---
? Google lukker Fusion Tables
Fusion Tables er (snart "var") et værktøj, rigtig mange datajournalister brugte. Derfor bliver lukningen (som Google har meldt ud i en mail til alle brugere) modtaget med tristhed.
Data nerd me is very saddened by this development: the sunsetting of Google Fusion Tables. pic.twitter.com/6k5Rfxz0WW

— Emma Carew Grovum (@emmacarew) December 11, 2018
---
? Teknologi vil afhjælpe informations-overload i 2019
While there are a handful of very good digital reading tools(Pocket, Flipboard, Kindle), the next wave of products will be built to deliver a better news consumption experiences.
---
? Redaktioner skal lære at bruge AI
"We are not blind to the challenges as these technologies make it easier to trick machines and humans. Newsrooms must act now to understand this new era of computing. Trust in journalism is at stake."
---
?️ Sådan skalerer Facebook sit designsystem
Product designer Jeff Smith shares insight, expert advice and actionable tips based on the design process at Facebook.
---
? Dine apps sladrer om, hvor du er
Dozens of companies use smartphone locations to help advertisers and even hedge funds. They say it's anonymous, but the data shows how personal it is.
---
? Amazons digitale assistent bliver bedre til det lokale
Endnu kan vi kun købe Google Home af smarthøjttalere herhjemme i Danmark, men hvis du går og venter på, at vi kan købe Amazons bud, så kan du læse med her:
Amazon Alexa is gaining new capabilities, including support for location-based reminders and routines, the ability to call local businesses by voice and the ability to check your email, hands-free, on supported Alexa devices, among other things.
↓
Mere Amazon:
Den amerikanske tech-gigant inviterer onsdag til pressemøde i Stockholm. Temaet er ukendt, men pressemødet kan måske løfte sløret for selskabets planer i Norden.
↓
Alexa can now check your email [VentureBeat]
---
⚡ Sådan gentænkte Amazon Web Services internettet
Amazon Web Services CEO Andy Jassy explains how the business that allows everything from Slack to Netflix to function came to be